Samsung Galaxy S6 Edge Edisi Iron Man Siap Bantu Tony Stark Memberantas Kejahatan
Bambang Winarso - 27 May 2015
Samsung baru saja resmi memperkenalkan varian baru Galaxy S6 Edge edisi Iron Man sebagai wujud dari kolaborasi mereka dengan Marvel. Ini adalah bagian dari upaya Marvel dalam mempromosikan film terbarunya, Avengers: Age of Ultron yang dirilis bulan April lalu.
Edisi terbatas Samsung Galaxy S6 Edge ini dihiasi dengan balutan warna merah dan emas yang menjadi ciri khas baru sang jagoan. Di layar depan terpampang wajah "bengis" Tony Stark dalam balutan topeng baja.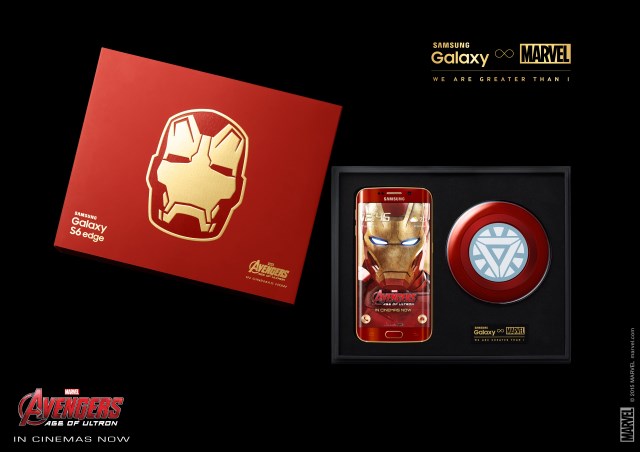 Jika sobat masih ingat, Iron Man punya sebuah cincin yang disebut Arc Reactor di bagian dada yang berfungsi sebagai sumber tenaga. Nah, seperti sang jagoan, Galaxy S6 Edge edisi khusus berkapasitas 64GB ini dilengkapi  wireless charger yang fungsinya juga sebagai sumber tenaga menyerupai Arc Reactor milik Iron Man.
Info Menarik: Sony Xperia Z3+ Resmi Diperkenalkan, Dilepas Secara Global Mulai Juni 2015
Di bagian cover belakang terpampang pula topeng Iron Man bergaris emas yang diletakkan tepat di tengah. Untuk melindungi bagian ini, Samsung juga menyediakan pelindung kaca transparan yang dapat dilekatkan di cover belakang perangkat.
Tidak ada yang berbeda di komponen hardware, software ataupun fitur-fiturnya. Hanya saja untuk bagian userinterface Samsung melakukan sedikit polesan berupa pilihan warna merah dan emas seperti warna angka, huruf, dan juga background.
https://www.youtube.com/watch?v=wB6MId15cpo
Sebagai pelengkap Samsung menempatkan perangkat dalam kotak kemasan yang didominasi warna merah dan tak lupa topeng besar Iron Man disertakan di bagian atasnya. Rencananya Samsung Galaxy S6 Edge edisi Iron Man ini akan dilepas di Korea Selatan pada tanggal 27 Mei 2015. Kemudian di Tiongkok dan Hong Kong pada bulan Juni.
Sumber berita Samsungmobilepress.
Are you sure to continue this transaction?
processing your transaction....