Sensing Self and Its Commitment for Health Democratization through Technology
Success to create test kit for diabetes, independent rapid test for Covid-19, and to release test kit for Covid-19 infection soon
Marsya Nabila - 3 April 2020
Digitization in the health industry developed continuously with various innovations for everyone to have equal access to health products and medical experts. Sensing Self becomes one of the healthtech players with a commitment to achieve the vision.
The startup is based in Singapore, founded three years ago by entrepreneurs from Indonesia named Santo Purnama and Shripal Gandhi. Santo has a background in computer science and technology from Purdue University and Standford University. While Shripal has a chemical and biosciences background from the University of Mumbai and the University of California.
They both put Sensing Self as a company that focuses on creating independent health test kits for everyone can detect their own health and get treatment at the earliest possible stage.
"Our main goal is to democratize medical equipment so that it can be tested at home using a mobile phone. To date, if there are patients in remote villages who need urine tests, he may need to take a 2-3 hour vehicle to the nearest clinic with lab service. And the results have to wait a day or two," Santo explained to DailySocial, Thursday (2/4).
He continued, "Our technology can facilitate urine test by smartphones. That is one of our mission."
To date, the company has created an app for both the detection and prevention of diabetes or pre-diabetes through saliva and urine tests. Within five minutes, the user already knows the results of their sugar level. It is hoped that with this information, users can pay attention to their lifestyle from their diet and nutrition.
Sensing Self has targeted India as a key country for these products. In the area, this test kit has been used to detect more than 120 million adults and pre-diabetic children and 70 million detected diabetes.
Around the globe, according to data from the global diabetes association and federation, there are 750 million people who have pre-diabetes and diabetes. For most countries, this disease threatens more people of working age and children.
"Applications for testing for diabetes through saliva and urine have not yet entered Indonesia. Given the Covid-19 problem, we will continue our efforts to enter Indonesia after the pandemic has passed. "
The next product that was successfully released was a self-test kit for Covid-19. This test tool provides fast and accurate detection results because it uses enzyme analysis. Enabling everyone to test at their own homes, within 10 minutes, and an affordable price of around Rp160 thousand per unit.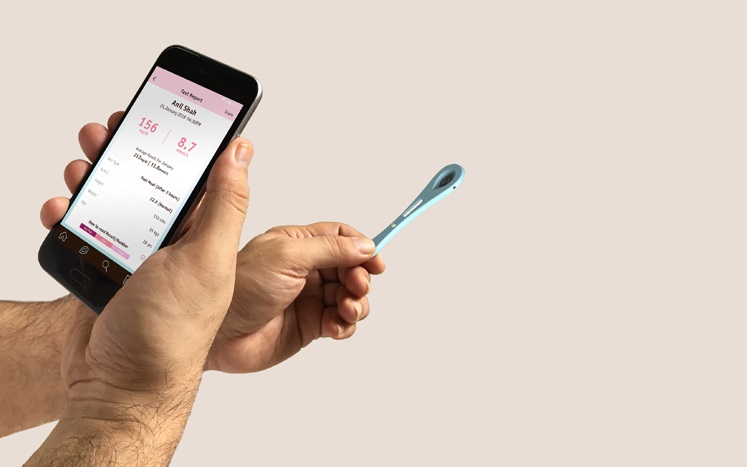 The company also holds various international licenses from Europe (CE certification), India (approved by the National Institute of Virology and Indian Council of Medical Research), and the United States. Specifically in the US, the Food and Drug Administration (FDA) gives its approval that the terms of use must be done in a formal medical institution.
"The presence of this independent test tool can help the government to provide access to tests that are safer, practical, and affordable. When there are positive patients, they can immediately isolate themselves or get treatment in the hospital. "
"That way, medical workers can really focus on treating Covid-19 patients with moderate-severe symptoms, instead of spending time testing thousands of people," he continued.
The product has been distributed by India, which ordered millions of units. He claimed intention to enter Indonesia but still hampered by approval from the authorities. The price sold, according to him, is the price of production because it carries a social mission to save more human lives.
"We have sent these test kits to well-known research institutions such as Mayo Clinix, University of California, and Chan Zuckerberg Biohub."
The company's business plans
As he said, Sensing Self is targeting developed countries with a low ratio of medical tools with massive citizens. India and Indonesia are both the best example of these criteria. "And they are our focus."
Furthermore, Santo avoids specifying the product sales contribution to the company in terms of business. He believed that what the company provided was to improve things around humanity. "[Therefore] revenue and profit will come naturally."
The next innovation the company has been preparing is the Covid-19 infection detection test kit as early as possible with a nucleic acid test. Santo claims the test results are able to detect with an accuracy of up to 99% on the first day they are exposed to the virus. This product will be released in the near future.
Innovations that move around COVID-19 by making an independent rapid test tool are actually also carried out by East Ventures along with its portfolios. They collaborated to collect non-profit funds with a total target of IDR10 billion.
Of the total budget, Rp9 billion will be used to support Nusantics to provide 100 thousand test kits, and the rest will be used for the whole genome sequencing project (mapping the mutation of the virus that causes Covid-19 to spread in Indonesia).
This project is part of Nusantics' task as a member of the Task Force for Research and Technology Innovation for Handling COVID-19 (TFRIC19) formed by BPPT.
–
Original article is in Indonesian, translated by Kristin Siagian
Thank you for Reading DailySocial.id
Starting at less than Rp 5.000/Day. You get unlimited access to DailySocial.id