Starting Out as E-Commerce, Orami Transforms Into Parenting Platform
Recently launched Orami Parenting, provides information and interactive channels for various parenting affairs
Marsya Nabila - 13 February 2020
Orami, usually known as a niche e-commerce site for mom and kids products, has recently launched the "Orami Parenting" app to tighten its position as an all-in-one parenting app. The launch is held along with the 7th anniversary. The step is said to be in line with its vision to simplify the parenting stuff.
Orami's Head of Parenting, Cynthia Tenggara told DailySocial, the presence of Orami Parenting does not mean to disregard the e-commerce business. This decision was taken due to the increasing needs of mothers instead of just shopping.
"On our internal research, they need more than that [e-commmerce], they need a support system, original content, and community. Starting there, we finally developed the application," Cynthia said, Wednesday (12/2).
She also said, last year when she joined the Orami, it was the beginning of Orami Parenting initiative. Cynthia was the former founder & CEO of Berrykitchen which has now been acquired by Yummy Corp.
Orami's initial business was e-commerce and has been the company's core business since 2013. Product expansion begins with the presence of the Orami Forum in 2017, a solid foundation to be further developed as the Orami Community in 2018.
This community has thousands of members come from various areas in 75 cities. They are majorly located in Greater Jakarta, Bandung, Surabaya and Yogyakarta.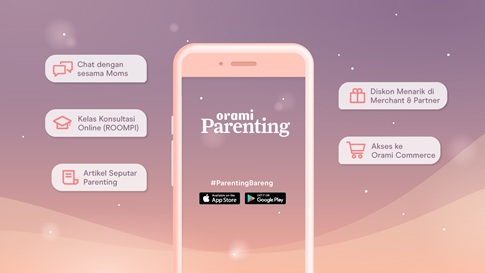 Orami Parenting is a community-based parenting application. In this space, parents can have an online discussion via chat with fellow parents with the same interest.
There are online consulting classes to gather them with experts in ​​childcare and have direct interaction through the online chat platform provided.
In addition, users can read various articles related to parenting in various formats including writing, visual, audio and video; gain special access to enjoy promos at various merchants and partners; and shop on the Orami e-commerce site.
"All the features we've been working on are always through the inspiration from mothers as our users."
Cynthia also explained, the team isn't focused on the monetization strategy in the application, at this time. Although, it's quite possible in the future.
"We are now focusing on making an impact related to parenting, how to acquire more mothers to join and have a good support system."
This application allows Orami to expand coverage throughout Indonesia. Also, there are partners from outside Java island for parents' needs. This benefit is expected to have more impact due to no 'privilege' impression between members who live in big cities with the others.
"We also create a community based on domicile, therefore, if there's a group of mothers in Papua, we can create a separate group."
The complete business plan
Cynthia also revealed the future plans for feature development, one of which is to facilitate the search for babysitters. Moreover, the forum used by community members to share information with each other, including babysitter recommendations.
Furthermore, it is the wholesale shopping feature in order to get a much cheaper price. "We are currently developing because shopping with the community offers a much cheaper price. The main feature is based on internal research and the aspirations of mothers."
This year, Chyntia is targeting to increase the number of app downloads to 150 thousand downloads. The new Orami Parenting app has officially introduced today, (12/2).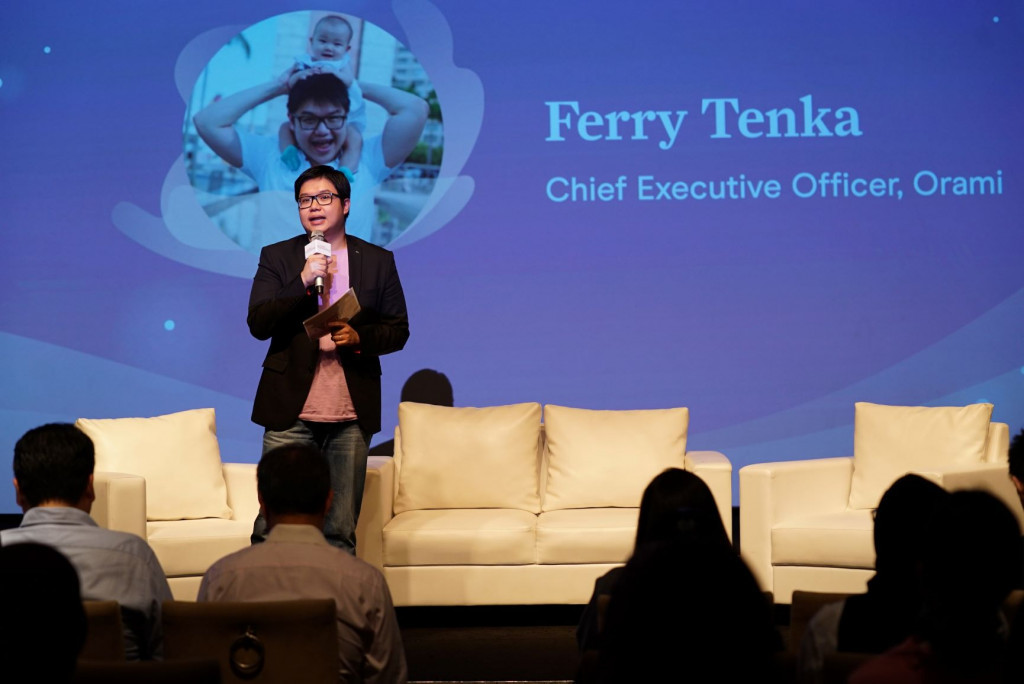 Separately, regarding the e-commerce services, Orami's CEO, Ferry Tenka is targeting to gradually expand shipping coverage for more users can have access to their services. About 70% -80% of Orami Commerce orders come from Java.
The company is to open a warehouse located in Medan as user penetration is getting high. Currently, Orami has two warehouses located in Bekasi and Surabaya for shipping around the area.
In addition, Orami has its own fleet of one-day-delivery service, however, it only applies to short-distance shipments. When the delivery goes too far, it will be handled by a third party courier company.
"We have just launched a warehouse in Surabaya, aiming to serve buyers from Eastern Indonesia. This year we plan to add another warehouse in Medan, "Ferry said.
Orami currently has around 30 to 40 thousand product SKUs provided by 400-500 brands. There are nine categories of products, ranging from children's fashion, gears, diapers, children's food, baby gear, baby travel gear, also children's milk and nutrition.
Last year, the transaction volume is estimated at 400 thousand. It's targeting all the company's business strategies to be able to realize the ambition to process 1 million transactions this year.
The Orami site is said to have been visited by five million unique visitors each month. Of that number, around 700 thousand of them have registered. Moreover, 500 thousand of them already transact in Orami.
"Our target is trying to expand the unique visitor range. There are 20 million mothers who have children under the age of seven as our target users," he concluded.
–Original article is in Indonesian, translated by Kristin Siagian
Are you sure to continue this transaction?
processing your transaction....