Misc
Stiker Pippo The Roly Poly Penguin Buatan Arsanesia Telah Hadir di Line
Salah satu game studio dari Bandung, Arsanesia, tidak mau ketinggalan untuk menghadirkan stiker di Line Store.
Berbekal game yang telah dirilis cukup lama, Roly Poly Penguin, Arsanesia menyediakan stiker Pippo Roly Poly Penguin yang telah bisa dibeli di Line.
Stiker ini didasarkan pada karakter utama game Roly Poly Penguin yang bernama Pippo. Ada 40 buah stiker dalam berbagai ekspresi yang bisa digunakan untuk menambah seru percakapan chat di Line.
Stiker ini sebenarnya telah diluncurkan sejak awal September 2014 lalu, berbincang dengan TRL, Adam Ardisasmita dari Arsanesia menyebutkan bahwa sambutan atas stiker ini cukup baik.
Pada awal peluncurannya, bahkan stiker ini sempat menempati rangking yang cukup baik, misalnya di US. Untuk penggunaannya, Adam menyebutkan bahwa stiker ini cukup sering dipakai pengguna Line dalam berkomunikasi.
Info menarik: Stiker Berdasarkan Karakter Novel Lokal Ther Melian Telah Tersedia di Line
Roly Poly Penguin, yang memang didesain untuk menjadi sebuah brand karakter (IP) juga akan hadir dalam rupa set stiker lainnya. Adam menjelaskan bahwa akan hadir stiker dengan tema-tema tertentu untuk Pippo dan selain stiker akan ada kejutan lain juga yang disiapkan dari karakter Pippo ini.
Arsanesia juga memiliki harapan bahwa karakter Pippo ini bisa menjadi ikon asal Indonesia yang mendunia. Diharapkan masyarakat luat]s bisa mengenal potensi industri kreatif dengan karakter ini. Pembuatan stiker yang tersedia di Line, yang adalah sebuah layanan global, menjadi salah satu cara yang ditempuh untuk mengenalkan Pippo ke pasar luas.
Stiker Pippo the Roly Poly Penguin bisa Anda temukan di Line Store lewat perangkat smartphone Anda atau bisa dibeli seharga 50 coin, sekitar Rp 9.900, lewat tautan ini.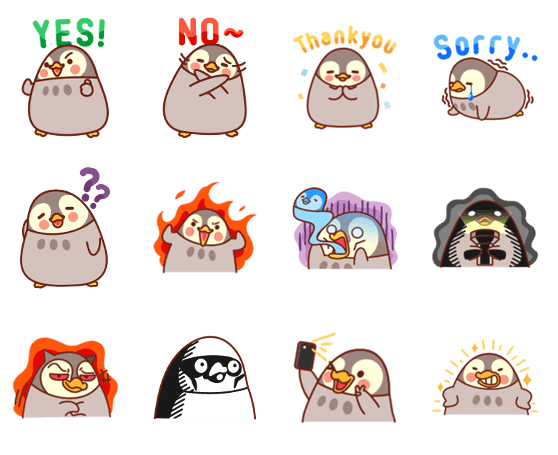 Are you sure to continue this transaction?
processing your transaction....