Tak Lagi 'Eksklusif', Quantum Break Akan Dirilis di Xbox One dan Juga PC
Jika melakukan pre-order versi Xbox One, Anda berhak memperoleh versi PC-nya tanpa perlu mengeluarkan uang sepeserpun.
Yoga Wisesa - 13 February 2016
Setelah Rise of the Tomb Raider, ada satu lagi game Microsoft yang akan kehilangan status 'eksklusifnya'. Kabar berawal dari info di website rating Brazil pada bulan Januari silam, menyebutkan bahkan permainan Xbox One berjudul Quantum Break juga dijadwalkan untuk meluncur di PC. Ternyata informasi tersebut benar adanya, berdasarkan konfirmasi tim Xbox sendiri.
Microsoft mengumumkan bahwa Quantum Break dijadwalkan untuk meluncur di console Xbox One dan Windows PC pada tanggal 5 April 2016. Diperkenalkan tiga tahun silam, Quantum Break diramu oleh para pencipta Max Payne dan Alan Wake, dinahkodai creative director Sam Lake. Penantian yang cukup lama ditambah premis menjanjikan dari karya digital anyar Remedy Entertainment ini membuatnya sangat diantisipasi gamer.
Quantum Break memiliki ciri khas game Remedy sebelumnya. Ia adalah permainan action berperspektif orang ketiga, menyuguhkan elemen gameplay unik di dalamnya. Anda bermain sebagai Jack Joyce (diperankan oleh Shawn Ashmore), seorang pemuda yang dapat menghentikan waktu. Kemampuan itu bisa membantunya mengalahkan atau melarikan diri dari lawan.
Permainan mengambil latar belakang sebuah kampus fiksi di Amerika Serikat, Riverport University. Di sana, sebuah eksperimen ilmuwan untuk manipulasi waktu berjalan tidak semestinya. Insiden itu menyebabkan alur waktu jadi berantakan, serta memberi efek berbeda pada dua tokoh utama: Joyce bisa menghentikan waktu, sedangkan karakter antagonis Paul Serene (Aidan Gillen) dapat melihat masa depan dan menghadirkannya ke masa kini.
Mekanisme manipulasi waktu ini tidak cuma diimplementasikan ke sistem pertempuran, tapi juga diterapkan pada penyajian puzzle. Waktu yang rusak menyebabkan objek-objek terjebak di siklus putaran dan jadi sangat berbahaya.
Permainan terbagi dalam beberapa segmen, dan di sana Remedy membubuhkan satu lagi formula unik: live-action in-game show, tersuguh saat Anda menyelesaikan satu bagian. Ketika game mengisahkan petualangan Joyce, live-action diramu agar pemain memahami motivasi para tokoh jahat.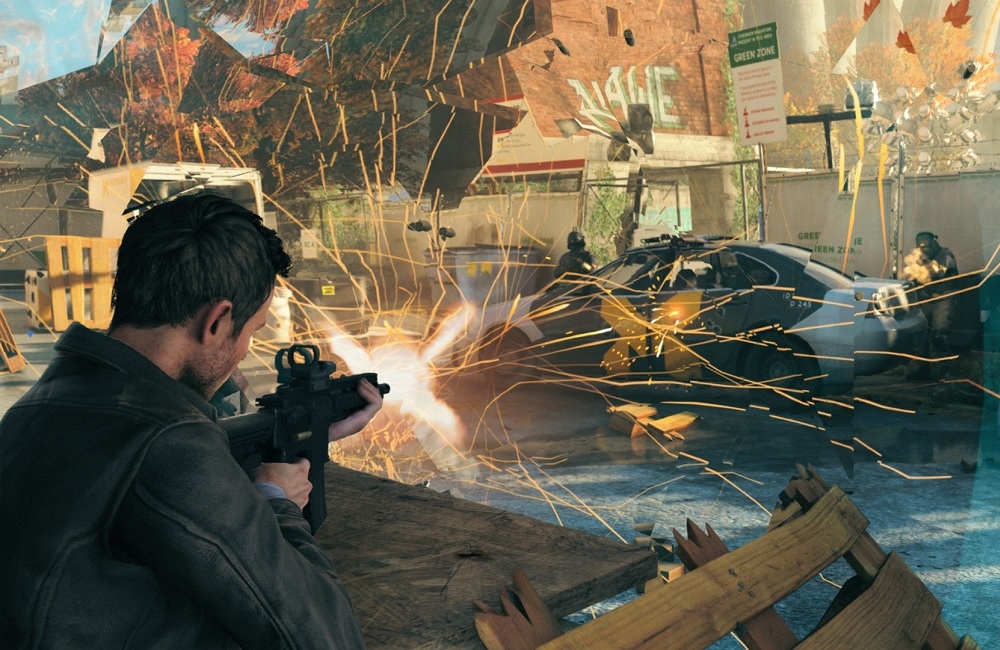 Bersamaan dengan informasi tanggal peluncuran Quantum Break, Microsoft juga membuka gerbang pre-order dan sudah menyiapkan penawaran menarik. Bagi mereka yang membeli Quantum Break di Xbox One, Remedy membagi-bagikan game Alan Wake beserta add-on American Nightmare secara gratis, tersedia melalui fitur backward compatibility.
Kemudian jika melakukan pre-order versi Xbox One, Anda berhak memperoleh versi PC-nya tanpa perlu mengeluarkan uang sepeserpun.
Siapkah PC Anda menangani Quantum Break? Ini dia daftar kebutuhan hardware-nya. Pastikan saja sistem Anda beroperasi di Windows 10.
Sumber: Xbox Wire & QuantumBreak.com.