Thanos Siap Menyerbu Fortnite Battle Royale, Karena Kenapa Tidak?
Setelah membuat The Avengers bertekuk lutut, sang super-villain kabarnya akan menginvasi game battle royale populer ini.
Yoga Wisesa - 8 May 2018
Ketika kita mengira PlayerUnknown's Battleground merupakan kejadian bersejarah di era platform game current-gen, Fortnite Battle Royale ternyata menjadi fenomena yang lebih besar lagi. Berbeda dari sang rival, mode 'last man standing' di Fortnite tersaji terpisah dari permainan utamanya, dihidangkan sebagai game free-to-play yang ditopang oleh sistem microtransaction.
Mungkin kita sulit membayangkan hal apa yang bisa membuat permainan battle royale itu lebih besar dan menghebohkan lagi. Namun Epic Games sudah memikirkannya. Perusahaan game legendaris asal North Carolina itu melangsungkan kolaborasi eksklusif dengan Marvel Studios untuk menghadirkan Thanos di Fortnite Battle Royale - tak lama setelah sang super-villain mengobrak-abrik The Avengers dalam Infinity War.
Sensasi Marvel di Fortnite itu bisa Anda nikmati melalui mode 'terbatas' bertajuk Infinity Gauntlet Limited Time Mashup. Di sana, Thanos tidak serta-merta datang dan mencoba melumat para pemain. Mode tersebut kembali menghidangkan gameplay last man standing masif, di mana Anda akan berlomba-lomba untuk menjadi pemain terakhir yang bertahan hidup, ditambah satu twist menarik.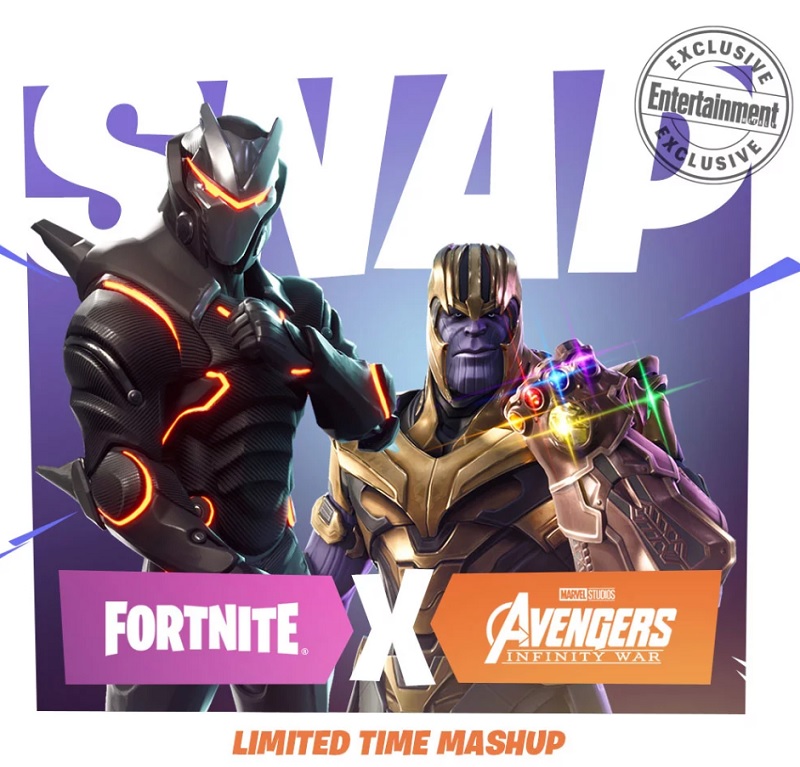 Dalam Infinity Gauntlet Limited Time Mashup, game akan menempatkan Infinity Gauntlet serta keenam batu Infinity Stone secara acak di peta. Gamer yang menemukan dan menggunakannya segera berubah jadi sang alien dari Titan itu dan memperoleh seluruh kekuatannya. Apakah gagasan ini terdengar terlalu liar? Tidak juga. Di Infinity War, Thanos berhasil merebut Reality Stone, sehingga memungkinkannya masuk ke jagat lain.
Menariknya, ide kolaborasi Epic Games dan Marvel Studios ini tidak datang dari satu pihak saja. Infinity War saat ini memang menjadi film box office nomor satu, berhasil meraup US$ 144,8 juta, dan siapapun yang menggandeng franchise ini berpeluang mendapatkan untung besar. Meski begitu, ternyata sutradara kakak-beradik Anthony dan Joe Russo adalah penggemar berat Fortnite. Mereka sering menikmati permainan shooter itu di waktu senggang.
Creative director Epic Games Donald Mustard kaget ketika menerima telepon dari Joe Russo. Sesudah sedikit perkenalan, mereka segera berdiskusi dan akhirnya membicarakan ide gila. Meski begitu, Mustard dan Russo setuju bahwa seperti apapun hasilnya nanti, konten baru tersebut haruslah benar-benar orisinal, baik untuk fans Fortnite ataupun Avengers: Infinity War. Tak lama, tim Epic Games langsung menggarapnya.
Infinity Gauntlet Limited Time Mashup tersuguh sebagai update gratis di Fortnite Battle Royale, tersedia di PC, Xbox One, PS4, Mac serta iOS; bisa dinikmati mulai hari ini. Dengan kehadiran mode tersebut, untuk pertama kalinya fans The Avengers mendapatkan kesempatan buat membalaskan kekalahan para hero favorit mereka di Infinity War...
Sumber: Entertainment Weekly.