Sepanjang Q3 2021, Startup Indonesia Bukukan Pendanaan 13,8 Triliun Rupiah
DailySocial.id mengolah data pendanaan startup sepanjang Q3 2021 berdasarkan putaran, vertikal, top 20 startup, dan top 5 investor
Iklim investasi di ekosistem startup Indonesia pasca pandemi menunjukkan tren yang terus meningkat. Menurut catatan DailySocial.id, didasarkan pada transaksi pendanaan yang diumumkan ke publik dan/atau dicatatkan ke regulator, sepanjang kuartal ketiga (Q3) 2021 terdapat 68 pendanaan startup yang membukukan nominal hingga $974.220.000 atau lebih dari Rp13,8 triliun dari 45 transaksi yang disebutkan nilai pendanaannya.
Secara kuantitas dan nominal, kondisi ini meningkat dibandingkan dua kuartal sebelumnya. Di Q1 2021 ada sekitar 40 pendanaan startup dengan total nilai $554.750.000, sementara di Q2 2021 ada 47 transaksi dengan nominal $750.520.000.
Jika dibandingkan dengan Q3 di dua periode tahun sebelumnya, nilai investasi yang diumumkan memiliki peningkatan hampir 2x lipat.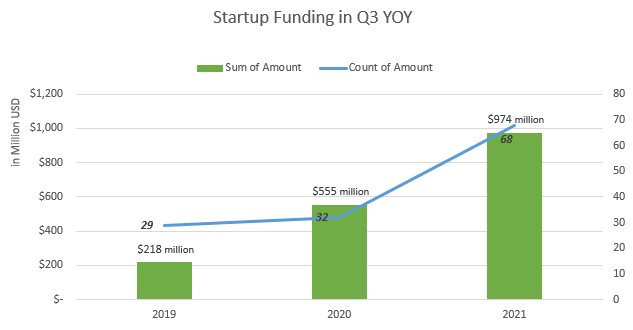 Hal ini menjadi indikasi menarik bahwa pandemi tetap memberikan efek akselerasi terhadap iklim investasi startup di Indonesia. Selama periode Juli s/d September 2021, ada 2 startup yang berhasil menggaet status "unicorn" dengan pendanaan barunya, yakni Xendit dan Kredivo. Blibli dan Tiket.com menjadi startup yang akhirnya mengonfirmasi saat ini valuasi mereka sudah di atas $1 miliar.
Tren pendanaan sepanjang Q3 2021
Ditinjau lebih dalam, didasarkan pada tingkatannya, putaran pendanaan Seri B di periode ini berhasil membukukan nilai paling banyak dengan jumlah transaksi yang cukup signifikan. Kecenderungan investor melakukan follow-on funding di later stage juga sebenarnya sudah tercatat sejak tahun 2020 lalu, seperti didata dalam Startup Report 2020.
Welcome to Premium Content
Become a DailySocial.id Subscription, you can get unlimited access to discover the best minds of innovation and to perceive the finest tech journalism products in Indonesia. Learn more
Single Article

Access anytime, only this article.

Starting at

Rp 7,000 /article

Subscription

Unlimited access premium content.

Starting at

Rp 150,000 /month
Login or create account to access premium content
Are you sure to continue this transaction?
processing your transaction....