Venturra Discovery Tambah Portofolio di Luar Indonesia
Baru saja terlibat dalam investasi Infina, sebuah startup pengembang aplikasi investasi asal Vietnam
Besarnya potensi yang ditawarkan oleh berbagai startup di Vietnam, menjadi alasan utama mengapa Venturra Discovery kemudian kembali untuk memberikan pendanaan. Setelah sebelumnya startup social commerce Mio, kali ini mereka kembali terlibat dalam pendanaan startup lain asal Vietnam, Infina.
Diluncurkan pada Januari 2021, Infina adalah aplikasi investasi digital, mereka menyebut dirinya sebagai "Rohinhood of Vietnam". Sama seperti aplikasi Ajaib atau Bibit di Indonesia, platform tersebut menargetkan kalangan investor ritel atau dari masyarakat umum.
"Ada banyak kesamaan antara Vietnam dan Indonesia. Kami tertarik untuk menjelajahi lebih jauh lagi semua peluang yang ada di Vietnam," kata Partner Venturra Discovery Raditya Pramana kepada DailySocial.
Selain Mio dan Infina, secara keseluruhan untuk negara Vietnam, pemodal ventura yang terafiliasi dengan Lippo Group tersebut telah memiliki empat portofolio, termasuk Med247 yang merupakan platform healthtech dan Vui App platform fintech.
Fokus ke startup Asia Tenggara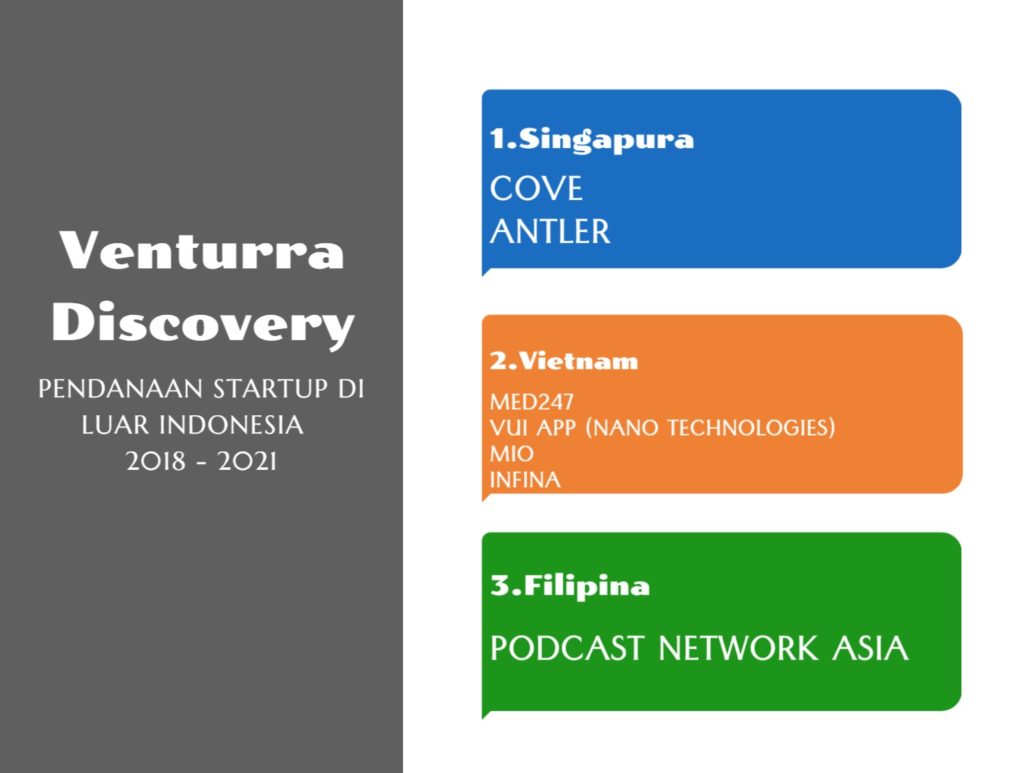 Selain Vietnam, sepanjang tahun 2018 hingga 2021, Venturra Discovery juga telah berinvestasi kepada Antler dan Cove yang merupakan startup asal Singapura. Antler merupakan venture builder untuk startup; sementara Cove adalah marketplace sewa rumah yang menghubungkan pemilik properti dengan penyewa untuk menawarkan kamar yang terjangkau.
Negara lain yang juga diincar oleh Venturra Discovery adalah Filipina. Awal tahun 2021 lalu mereka memberikan pendanaan tahap awal kepada Podcast Network Asia (PNA) senilai $750 ribu. Dipilihnya Filipina oleh Venturra Discovery untuk berinvestasi adalah, negara yang memiliki banyak keunikannya. Tidak cuma jumlah penduduknya banyak, secara demografi penduduknya relatif muda, buying power juga semakin meningkat.
"Podcast saat ini masih dalam tahap awal di Asia Tenggara. Saat kita melihat podcast dengan tangga lagu teratas, sebagian besar diluncurkan dalam satu tahun terakhir. Industri ini memiliki momentum yang kuat, karena platform streaming audio menggandakan segmen ini. Kami yakin kami dapat memberdayakan para kreator untuk meningkatkan dan mengomersialkan konten mereka melalui analisis data dan dukungan produksi," kata Raditya.
Are you sure to continue this transaction?
processing your transaction....