Game
Yang Perlu Anda Ketahui Tentang The Witcher 3 Dalam Video Lima Menit
Triwulan kedua 2015 merupakan momen termanis buat para gamer. Pillars of Eternity dan Bloodhorne sama sekali tidak mengecewakan, Deus Ex: Mankind Devided diumumkan, lalu beberapa jam lagi Mortal Kombat X dan Grand Theft Auto V PC akan hadir. Sebuah video dilepas oleh CD Projekt Red seolah-olah menyempurnakan rentetan kabar gembira tersebut.
Sempatkah Anda simak rekaman pembukaan The Witcher 3: Wild Hunt dari IGN? Jika sudah, maka Anda telah mendapatkan sedikit gambaran bagaimana game disuguhkan. Kali ini info datang langsung dari developer. Melalui channel resmi di YouTube, CD Projekt Red mempublikasi video berjudul Official Gameplay Trailer berisi penjabaran lengkap mengenai Wild Hunt selama kurang lebih lima menit.
The Witcher 3: Wild Hunt boleh kita bilang sebagai permainan yang paling dinanti tahun ini, karena tak cuma menjanjikan, kini lebih banyak orang dapat menikmati - game sebelumnya hanya tersedia di PC dan menyusul di Xbox 360. Anda ingin melihat seberapa besar antisipasi gamer? Begini, video tersebut baru dirilis tiga hari lalu, tapi sekarang sudah ditonton 1,2 juta orang lebih.
Penasaran? Trailer bisa langsung disimak di bawah.
"Di CD Projekt Red, sudah menjadi tujuan kami untuk membawa Anda melewati petualangan yang legendaris tapi tetap berdasar pada realita. Untuk mengisahkan pada Anda cerita dimana sihir, makhluk-makhluk fantasi, dan ramalan saling terjalin dengan fanatisme agama, kejahatan perang, hingga rasisme," jelas sang narator video. Visi seperti inilah yang direalisasikan developer dalam proyek paling ambisius mereka itu.
Info menarik: Mari Tonton 15 Menit Pembukaan Game The Witcher 3
Meski tersaji secara virtual, kejadian di jagat fantasi Witcher merefleksikan dunia nyata. Tiap karakternya hidup, mempunyai prasangka terhadap hal yang mereka tidak pahami. Manusia berseteru dengan peri dan kurcaci, lalu tidak selamanya perbuatan baik dibalas kebaikan atau berakhir gembira. Tidak ada pilihan jelas antara benar dan salah, atau baik dan buruk.
Dan karakter Anda, Geralt of Rivia, melihat dunia dari perspektif berbeda. Geralt memang terlahir dari orang tua manusia, tapi tubuhnya telah dimutasi secara kimia untuk menjadi pemburu monster. Orang lain menganggapnya sebagai keanehan dan ketidakwajaran, ia didiskriminasi baik oleh sesama manusia dan juga non-manusia. Itu mengapa The Witcher tak sama seperti karya fantasi lain.
Adaptasi video game dari karakter buatan penulis Andrzej Sapkowski itu rencananya akan diluncurkan pada tanggal 19 Mei 2015 di PC, PlayStation 4 dan Xbox One.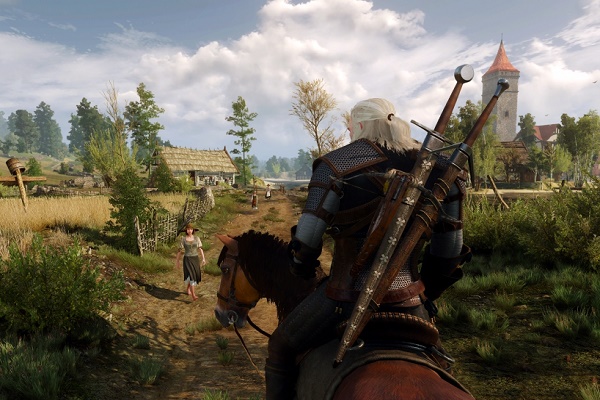 Gambar: TheWitcher.com.
Are you sure to continue this transaction?
processing your transaction....