Adobe Luncurkan Photoshop Fix untuk iPhone dan iPad
Glenn Kaonang - 6 October 2015
Akhir bulan Mei kemarin, Adobe secara resmi memensiunkan Photoshop Touch. Namun di saat yang sama, mereka rupanya sudah menyiapkan penggantinya, yakni Project Rigel. Kini, sang pengganti sudah siap dirilis ke publik dengan nama Adobe Photoshop Fix.
Ini sebenarnya bukan pertama kalinya Adobe memamerkan kebolehan Photoshop Fix. Dalam event perkenalan iPad Pro kemarin, Adobe juga sempat mendemonstrasikan kecanggihan Photoshop Fix yang berjalan di tablet terbaru Apple tersebut.
Lalu apa yang istimewa dari Photoshop Fix? Sederhananya, Photoshop Fix menitikberatkan fungsi retouching. Sesuai namanya, aplikasi ini dirancang untuk membenarkan apa saja yang Anda anggap salah dari sebuah foto. Entah itu jerawat di wajah atau tato di leher yang tak ingin Anda publikasikan, Photoshop Fix siap 'membinasakannya' secara instan.
Bisa dibilang, Photoshop Fix mengusung sejumlah tool yang paling sering digunakan untuk menyunting sebuah foto di Photoshop versi desktop. Memang tidak selengkap Photoshop di Windows atau Mac, akan tetapi mayoritas pengguna iPhone dan iPad akan merasa tercukupkan oleh Photoshop Fix.
Info menarik: Adobe Comp CC Tawarkan Kemudahan Brainstorming bagi Para Desainer Layout
Namun ada satu fitur yang menjadi andalan Photoshop Fix, Liquify namanya. Gampangnya, fitur ini memungkinkan Anda untuk memanipulasi bentuk objek secara drastis. Saat Anda mengedit foto selfie misalnya, Photoshop Fix akan mengenali di mana letak mata, hidung maupun mulut Anda. Selanjutnya, Anda bisa membesar-kecilkan hidung maupun melebarkan senyuman Anda hanya dengan menarik sebuah slider saja.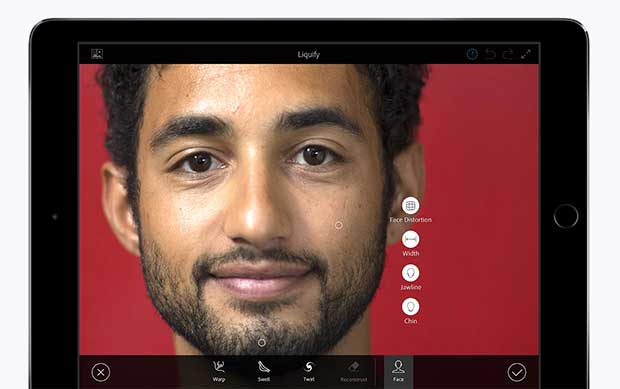 Untuk penyuntingan yang lebih simpel, semisal meningkatkan kecerahan di area wajah atau mengganti warna rambut, Photoshop Fix juga bisa menjadi aplikasi yang ideal. Kalau Anda berlangganan Adobe Creative Cloud, Anda bahkan bisa meng-export hasilnya dalam bentuk PSD untuk kemudian diulik lebih lanjut di PC atau Mac.
Adobe Photoshop Fix sekarang sudah bisa diunduh dengan gratis dari App Store oleh pengguna iPhone dan iPad. Aplikasinya sendiri akan meminta pengguna untuk mendaftarkan akun Adobe (juga gratis). Versi Android-nya baru akan tersedia di lain waktu. Entah kapan, tapi Adobe bilang "segera".
Sumber: The Verge.
Are you sure to continue this transaction?
processing your transaction....