Aplikasi atozGO Hadirkan Layanan Pengantaran Jarak Dekat
Telah memiliki 15 ribu merchant 130 ribu pengguna, baru tersedia di Jakarta
Yenny Yusra - 26 November 2020
Bertujuan untuk memudahkan proses pembelian dan pengantaran memanfaatkan aplikasi, platform atozGO diluncurkan. Sekilas konsep dan model bisnis yang ditawarkan oleh atozGO serupa dengan layanan delivery lainnya, namun yang membedakan adalah, tidak menggunakan kendaraan roda dua dan hanya melakukan pengantaran dalam jarak yang dekat saja.
Kepada DailySocial, CEO atozGO Djunaedy Hermawanto mengungkapkan, atozGO hadir untuk memberikan pilihan kepada masyarakat untuk membeli barang atau jasa dari lingkungan terdekat (nearby). Saat ini baru tersedia di Jakarta dan sekitarnya.
"Dengan fokus untuk memajukan dan membantu UKM, kurir yang bergabung dengan atozGO adalah orang-orang di lingkungan sekitar tersebut yang membutuhkan pekerjaan dan tidak harus memiliki kendaraan," kata Djunaedy.
atozGO merupakan platform yang berada dalam naungan PT Weyland Indonesia Perkasa (WIP), sebuah perusahaan yang didirikan tahun 2018. WIP juga telah mendapatkan dukungan pendanaan dan teknis dari Weyland Tech Inc., sebuah perusahaan publik di Amerika Serikat (US) yang membuat dan menyediakan aplikasi mobile untuk mendukung UKM.
Selain atozGO untuk food delivery, perusahaan juga telah meluncurkan layanan AtoZpay untuk pembelian pulsa, pembayaran listrik, air, BPJS, tiket travel, dan lainnya.
Pandemi dan bisnis atozGO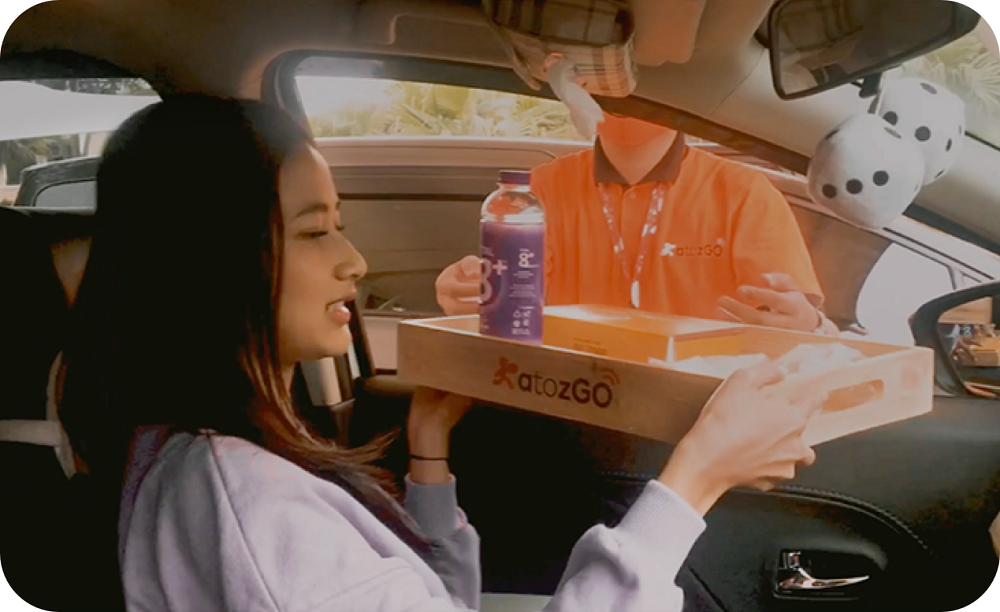 Sejak diluncurkan, saat ini atozGO telah memiliki 15 ribu mitra yang sudah bergabung dan 130 pengguna terdaftar. Model bisnis dan strategi monetisasi yang diterapkan adalah bagi hasil dengan kurir (ongkos kirim) dan merchant margin.
Berbeda dengan layanan pesan antar makanan digital lainnya, keunikan atozGO adalah berfokus pada layanan pengantaran jarak dekat di sekitar pelanggan berada. Sebagian besar kurirnya jalan kaki sehingga lebih hemat, cepat dan efisien karena tidak membutuhkan parkir. atozGO juga menampung tenaga kerja tanpa harus memiliki kendaraan.
"Selain pengantaran pembelian makanan, atozGO juga membantu pelanggan membeli berbagai barang keperluan di sekitarnya serta jasa-jasa yang relevan seperti membersihkan kantor atau apartemen, penyemprotan desinfektan," kata Djunaedy.
Saat pandemi, atozGO menawarkan layanan baru yang bisa dinikmati secara online to offline oleh pengguna. Berkolaborasi dengan Pondok Indah Mall, atozGO meluncurkan inovasi terbaru yaitu atozGO Mall yang mengusung konsep dine in your car dan drive thru. Konsep ini diklaim yang pertama di Indonesia.
Fitur ini menawarkan konsep pesan di dalam mobil saja yang kemudian bisa di santap di dalam mobil ataupun langsung di bawa pulang. Cara pesannya juga cukup mudah, pelanggan dapat memesan menu makanan melalui aplikasi atozGO dengan klik fitur Mall.
"Tentu saja pandemi membuat kami belum bisa memperluas bisnis kami di luar Jakarta, tetapi karena pandemi ini lahir ide untuk membuat layanan dine in your car dan drive thru di Mall sehingga kami tetap bisa memberikan layanan dan inovasi yang baik untuk pelanggan kami," kata Djunaedy,
Ke depannya atozGO ingin menjadi platform pengantaran yang cepat dengan harga yang lebih terjangkau dan ongkos kirim yang lebih murah dibanding platform lainnya.
Application Information Will Show Up Here
Are you sure to continue this transaction?
processing your transaction....