eBay di Indonesia Kini Fokus Bantu UKM Tingkatkan Ekspor
Melalui program akselerator e-commerce "Global 24/7"
Randi Eka - 20 October 2020
Berdalih ingin fokus ke ranah B2B, terhitung mulai 1 September 2020 layanan Blanja dihentikan. Seperti diketahui, Telkom tidak sendiri menggarap platform e-commerce tersebut, melainkan bersama eBay. Salah satu bentuk kerja samanya, memungkinkan masyarakat Indonesia membeli produk yang ada di katalog eBay.
Setelah penutupan Blanja, ternyata eBay masih berkomitmen melanjutkan bisnisnya di Indonesia dengan cara lain, yakni lewat program pemberdayaan UKM. Kini situs https://ebaysellercentre.co.id/ disediakan untuk penjual dari Indonesia.
Untuk tahu lebih detail, kami berkesempatan mewawancara Tam Yong Sheng selaku Head of Business Development eBay Asia Tenggara.
"Kabar bisnis terbaru dari eBay adalah peluncuran program eBay Global 24/7, yang didesain khusus untuk para pelaku UKM di Asia Tenggara. Terdapat berbagai benefit dalam program ini seperti New Business Seller insentif bagi para penjual baru, webinar edukasi, dan masih banyak lagi," terang Tam.
Program tersebut memiliki tujuan membantu pengembangan ekspor produk dari Asia Tenggara ke pasar dunia. Tam turut mengatakan, Indonesia menjadi salah satu destinasi utama untuk pelaksanaan program ini. Hal tersebut didasarkan pada potensi produk lokal di tanah air yang banyak diminati di mancanegara, seperti produk otomotif, kesehatan, kecantikan, kerajinan kulit, hingga alat musik.
Momentum di tengah pandemi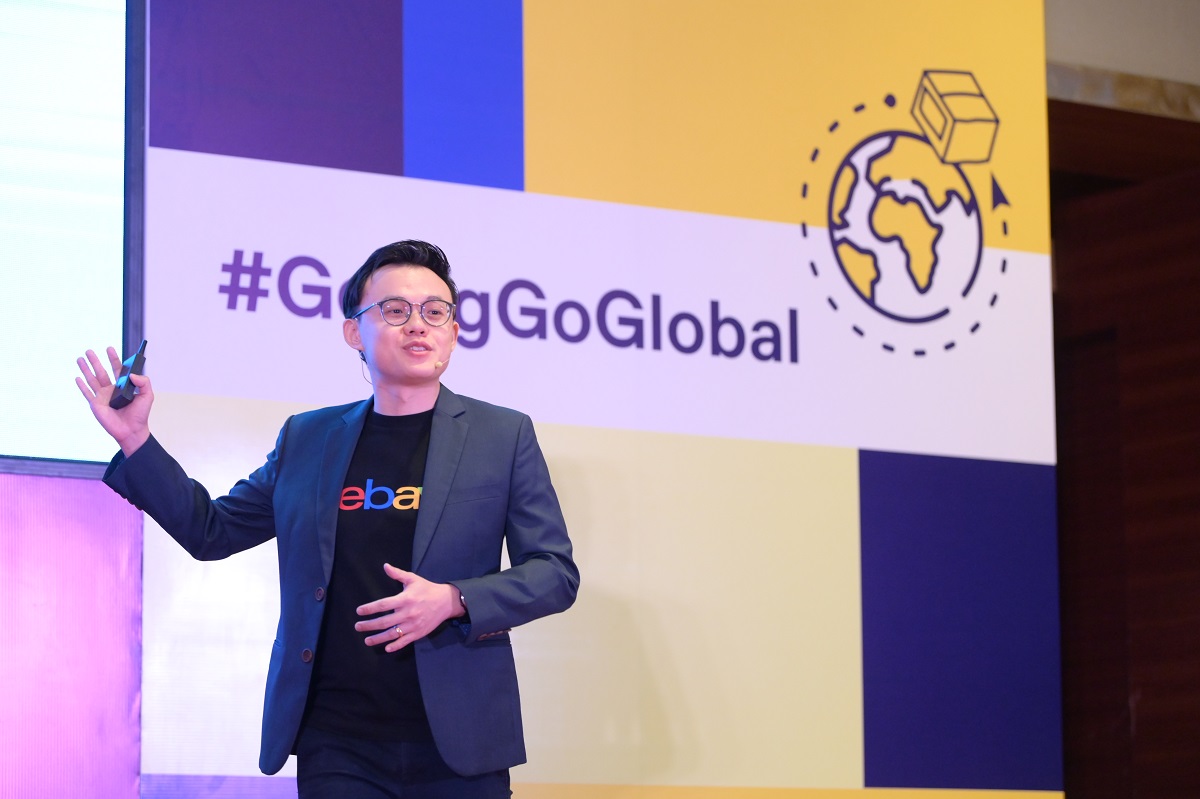 Mengutip data di perusahaannya, Tam menuturkan bahwa e-commerce global telah mencatat pertumbuhan pesat akibat perubahan perilaku konsumen di tengah pandemi. Di kuartal kedua saja, eBay melihat peningkatan 8 juta pembeli aktif baru dan pertumbuhan penjualan 29% di banding periode tahun lalu.
"Ekspor UKM Indonesia di platform eBay juga menunjukkan pertumbuhan yang sejalan dengan tren global ini, terutama di segmen suplemen kesehatan, di mana volume penjualan meningkat dua kali lipat dari periode yang sama tahun lalu," imbuhnya.
eBay sendiri sejauh ini sudah menjangkau pasar internasional di 190 negara, dengan total 182 juta pembeli aktif. Turut dikatakan bahwa Amerika Serikat, Australia, dan Kanada adalah tiga negara tujuan ekspor teratas bagi UKM Indonesia yang ada di eBay.
"Bagi pasar AS, kategori fesyen dan suplemen kesehatan merupakan yang paling populer (tumbuh 102%). Di Inggris produk fesyen dan aksesoris (tumbuh 158%). Sementara produk gaya hidup laris di Prancis, Italia, dan Spanyol (tumbuh 250%)," kata Tam menjelaskan beberapa pasar ekspor yang bertumbuh pesat selama pandemi.
Fitur untuk UKM
Kami sempat menanyakan, apakah saat ini eBay sudah memiliki entitas perusahaan dan tim lokal di Indonesia. Namun sayangnya Tam enggan untuk memberikan keterangan. Sampai saat ini, mereka cuma memiliki prioritas di program pemberdayaan UKM tersebut di Indonesia.
Program akselerator e-commerce Global 24/7 telah berlangsung sejak 1 Juli 2020, targetnya gelombang perdana ini akan sampai 31 Desember 2020. Beberapa manfaat yang akan diberikan seperti eBay akan membebaskan biaya store untuk level dasar dan diskon 50% untuk fitur promoted listing. Tiap UKM akan mendapatkan insentif sampai $1000. Terdapat juga subsidi untuk tarif pengiriman, khususnya ke Amerika Serikat. Fitur lain seperti market intelligence dan pengelolaan akun turut diberikan.
"Sebelumnya, eBay telah berhasil membantu pemilik UKM lokal, salah satunya Eko Saputro dan bisnisnya Klasikku (penjual suku cadang mobil/motor klasik). Setelah menjalankan bisnis di eBay selama 2 tahun, Klasikku telah memperoleh pertumbuhan bisnis global sebesar 150%, dengan pangsa pasar utama Amerika Serikat. Saat ini Klasikku dan eBay sedang menggarap pengembangan bisnis ke wilayah Australia dan Eropa," jelas Tam.
Application Information Will Show Up Here
Gambar header: Depositphotos.com
Are you sure to continue this transaction?
processing your transaction....