Riset INDEF: Tahun 2018 Ekonomi Digital Sumbang 814 Triliun Rupiah untuk PDB Indonesia
Laporan turut menyoroti peran digitalisasi pada ekonomi inklusif
Institute for Development of Economics and Finance (INDEF) dan Laboratorium Data Persada dengan dukungan Google merilis sebuah laporan bertajuk "Menuju Ekonomi Digital yang Inklusif: Perspektif Gender, Regional dan Sektoral". Dalam laporan tersebut disimpulkan beberapa data, termasuk mengenai total kontribusi ekonomi digital terhadap PDB Indonesia di tahun 2018 yang mencapai Rp 814 triliun (US$ 56,4 miliar) atau 5,5% dari PDB serta menambah 5,7 juta lapangan kerja baru atau 4,5% dari total tenaga kerja.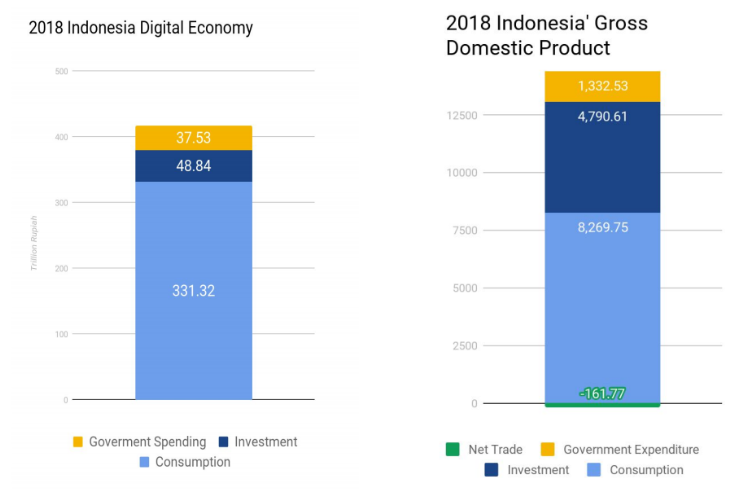 Riset menganalisis dampak ekonomi digital melalui nilai investasi, pengeluaran pemerintah, dan pengeluaran rumah tangga dalam survei acak bertingkat di 34 provinsi. Dalam lima tahun mendatang, nilai ekonomi digital Indonesia diproyeksikan naik 2x lipat menjadi Rp1.447 triliun --dinilai akan berdampak pada peningkatan daya saing dan mempersempit kesenjangan antar wilayah, gender, dan sektor ekonomi.
Sektor manufaktur masih memberikan kontribusi tertinggi, yakni 25,4% dari total PDB dengan nominal yang diberikan melebihi Rp100 triliun. Dilanjutkan transportasi, ritel dan finansial. Sebanyak 25% dari nilai transaksi produk juga telah terjual melalui e-commerce dengan persentase paling signifikan dimulai dari perangkat elektronik (57,61%), barang terkait hobi (53,58%), dan furnitur (28,28%).
Riset juga menyorot bagaimana sub-sektor di ekonomi digital menyerap tenaga kerja. Paling banyak disumbang oleh bisnis terkait transportasi, pergudangan dan komunikasi (17,01%). Bidang finansial, properti dan bisnis turut memberikan kontribusi aktif dalam peningkatan kesempatan kerja (9,69%). Dilanjutkan oleh manufaktur (6,54%), layanan publik (5,39%), dan ritel (4,96%).
"Peran ekonomi digital di Indonesia kini semakin inklusif dengan peran perempuan yang membesar, pertumbuhan penggunaan internet oleh penduduk di Kawasan Timur yang semakin tinggi, serta keterlibatan masyarakat miskin dalam transaksi digital yang semakin besar," ujar Peneliti Laboratorium Data Persada Bastian Zaini.
Ekonomi digital juga mendorong kesetaraan dari sisi pemberdayaan perempuan, termasuk memperdayakan ekonomi di Indonesia Timur.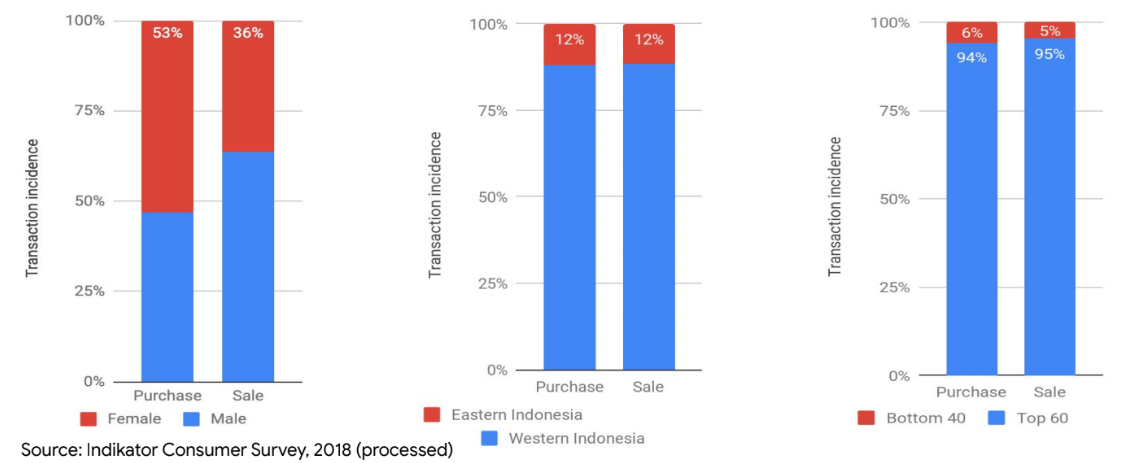 "Untuk menjaga agar ekonomi digital tetap berada pada jalur pertumbuhan inklusif, pembangunan infrastruktur lunak dan keras adalah kunci. Lingkungan regulasi untuk inovasi digital harus memungkinkan percepatan pertumbuhan ekonomi untuk seluruh orang dan memastikan bahwa kebutuhan bisnis di semua sektor terpenuhi."
Are you sure to continue this transaction?
processing your transaction....