Google Buat Robot Unik yang Bisa Ubah Foto Wajah Menjadi Sketsa
Tim Creative Lab menghubungkan smartphone Android ke board microcontroller IOIO untuk mengendalikan pena di modul bermotor.
Di tengah-tengah hebohnya pengungkapan smartphonecanggih dan headset virtual reality di ajang Mobile World Congress, tim Google tak lupa mendemonstrasikan eksperimen-eksperimen menarik dalam upaya mengeksplorasi potensi perangkat bergerak. Dan satu karya baru mereka berpeluang 'mencuri' lapangan pekerjaan seniman, khususnya para ahli gambar.
Di tenda Android Experiments, tim Creative Lab Google memamerkan sebuah robot unik. Didukung aplikasi dan smartphone, ia dapat mengubah foto wajah Anda di handset menjadi sketsa. Meskipun hasilnya 'kasar' dan tidak sedetail pelukis kawakan, device mampu membaca dan menuangkan karakteristik muka. Dan hebatnya lagi, robot menggambar secara vertikal.
Cara kerja perangkat cukup kompleks. Creative Lab menghubungkan smartphone Android (Nexus 6P) ke board microcontroller IOIO untuk mengendalikan pena di modul bermotor yang digantung oleh dua kawat. Handset Nexus 6P menangani segala proses komputasi dari mulai pengambilan foto, pengendalian prosedur sketsa, sampai pembuatan garis.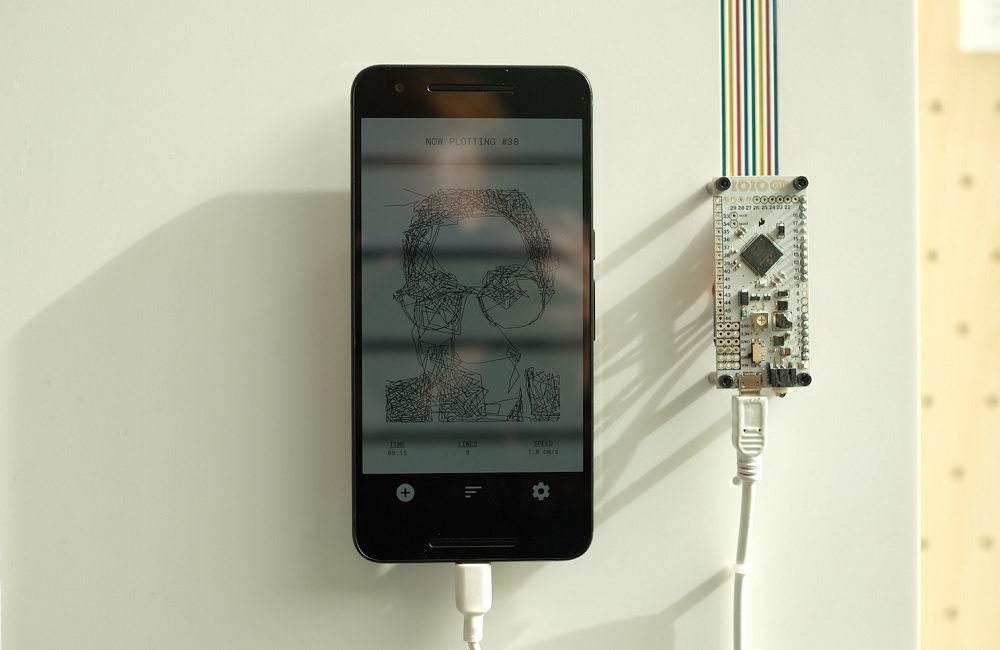 Setelah Anda mengambil selfie, data gambar segera diubah menjadi rangkaian koordinat segitiga via algoritma khusus buat memetakan wajah. Berbekal titik-titik tersebut, robot bisa menggambar di atas kertas dengan drawing pen. Untuk menciptakan satu ilustrasi, robot menghabiskan waktu antara tiga sampai lima menit. Melihat hasilnya, hitungan menit tidaklah terlalu lama.
Gambar-gambar robot Creative Lab memang belum dapat masuk ke kategori potret realistis. Walaupun bisa mengetahui area gelap dan terang, ia belum mampu menyampaikan tingkat ketajaman tinggi. Area-area seperti mata dan bibir belum tersaji dengan detail. Meski demikian, jika kita takar dari sisi seni, ilustrasi tidak kalah apik dari gambar manusia. Namun menurut The Guardian, seniman tak perlu merasa terancam.
Jonathan Jones bilang, banyak aspek dari kecerdasan manusia yang tidak bisa ditiru robot, salah satunya adalah pembuatan gambar potret. Mesin Creative Lab hanya memetakan muka, tapi tidak dapat menangkap ekspresi. Ia menganalogikan robot tersebut sebagai mainan Spirograph atau automaton high-tech. Untuk menghasilkan karya seni, subjek harus memiliki niat dan keinginan.
Tentu saja Google tidak bermaksud menggantikan para seniman dengan makhluk mekanik, mereka hanya ingin menujukkan kemudahaan mengutak-utik software open source dan mendorong developer untuk menciptakan penemuan-penemuan baru. Robot Creative Lab bukanlah proyek komersial, tim tidak berniat menjualnya.
Video demonya bisa Anda simak di sini.
Sumber: Mashable, The Next Web & Ubergizmo.
Are you sure to continue this transaction?
processing your transaction....