Game
Kembali Ditunda, Trailer Baru Batman: Arkham Knight Bisa Mencerahkan Hari Anda
Penundaan tanggal rilis belakang menjadi populer pada judul-judul game besar di tahun 2015. The Witcher 3, versi PC GTAV, Project CARS, kali ini Batman: Arkham Knight. Tadinya segera tayang tanggal 2 Juni, ditunda ke 23 Juni 2014. Oh tunggu, artinya permainan hanya diundur tiga minggu. Tapi Rocksteady sudah menyiapkan obat penangkal kesedihan.
Memang belum lama Rocksteady Studios melepas video trailer berjudul Gotham Is Mine. Di sana, mereka memperlihatkan sisi cerita dan memamerkan beberapa karakter penjahat yang akan Anda hadapi. Kini trailer baru diambil langsung dari porsi permainan, menujukkan luasnya kota Gotham, pertarungan sengit melawan selusin musuh, dan adegan kejar-kejaran dengan kriminal sambil mengendarai Batmobile.
Menggunakan versi PlayStation 4, potongan gameplay sepanjang tujuh menit itu menceritakan aksi Caped Crusader mencari Scarecrow. Sang supervillain berencana meledakkan bom racun syaraf di tengah kota. Scarecrow adalah satu dari beberapa nama kriminal familiar yang telah dikonfirmasi hadir dalam Arkham Knight, bersama Penguin, Two-Face, Harley Quinn, Riddler dan Firefly.
Info menarik:Game Batman: Arkham Knight Akan Menutup Kisah Batman
Mayoritas formula game pendahulunya tetap diusung dalam Arkham Knight, hanya saja latar belakang tempat jadi jauh lebih lapang. Dengan sayapnya, Batman dapat melayang bebas melintasi langit Gotham. Namun jika butuh kecepatan, tinggal panggil Batmobile. Pendekatan stealth juga masih memegang peranan penting. Teknik tersebut bisa dipakai untuk membungkam lawan satu per satu, membuat kawan-kawannya ketakutan.
Sistem tarung juga menyamai pendahulunya, menyuguhkan dua input utama: menyerang dan bertahan. Batman menyerang musuhnya melalui satu tombol. Lalu saat seseorang mencoba menerjang, tombol kedua bertugas untuk menangkisnya. Sewaktu skill sudah tersedia (dengan mengumpulkan poin XP), terbuka pula kombinasi gerakan lebih banyak (memanfaatkan dua input tersebut plus tombol lain).
Via press release, Rocksteady mengungkapkan, "Kami, developer, tak menyukai kompromi. Jadi kami mohon maaf karena Anda harus menunggu sedikit lebih lama buat menikmati kisah penutup trilogi Arkham. Sebagai apresiasi atas kesabaran dan pengertian Anda, serta untuk memastikan penantian semakin tak tertahankan, kami rangsang rasa lapar Anda dengan video gameplay terkini dari Batman: Arkham Knight."
Tidak ada mode multiplayer dalam Arkham Knight, developer sepenuhnya fokus pada singleplayer. Batman: Arkham Knight akan diluncurkan di platform Windows PC, PlayStation 4 dan Xbox One.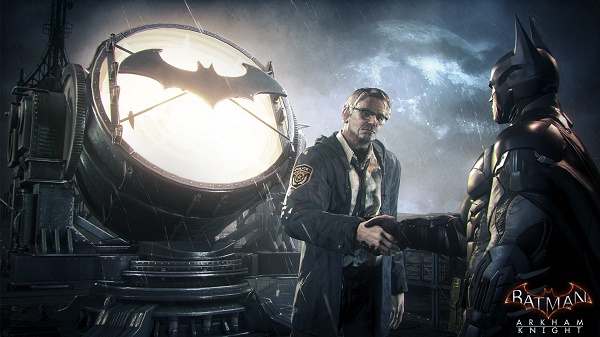 Sumber tambahan: PC Gamer. Sumber gambar: BatmanArkhamKnight.com.
Are you sure to continue this transaction?
processing your transaction....