RED Sederhanakan Lineup Kameranya Sekaligus Pangkas Harganya Secara Drastis
Sekarang cuma ada satu tipe bodi saja, diikuti oleh tiga macam sensor
Memahami lineup kamera sinema yang ditawarkan RED itu gampang-gampang susah. Kuncinya ada pada penamaannya, yang berarti kita harus hafal mana yang merujuk ke tipe bodi dan mana yang untuk tipe sensor. Situasinya memang jauh dari kata ideal, dan RED sendiri rupanya menyadari akan hal itu.
Mereka pun memutuskan untuk menyederhanakan lineup-nya menjadi tiga model saja: DSMC2 Monstro 8K VV, DSMC2 Helium 8K S35, dan DSMC2 Gemini 5K S35. DSMC sendiri merupakan singkatan dari Digital Stills and Motion Capture, dan ini merujuk pada jenis bodi kamera yang digunakan.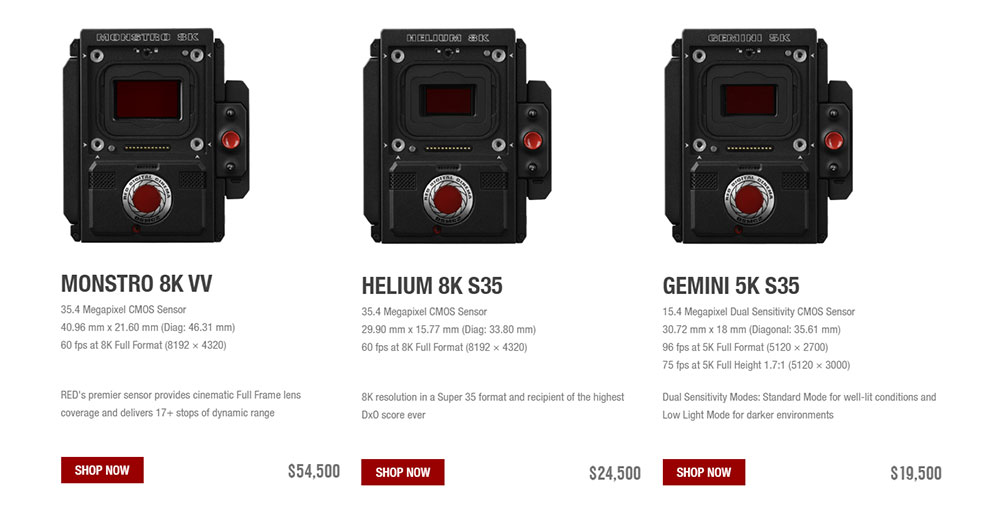 Ketiga kamera di atas menggunakan bodi yang sama persis, sehingga perbedaannya hanya terletak pada sensornya, yang diwakili oleh masing-masing namanya. Cinema5D punya cara mudah untuk memahami perbedaannya. Berikut rangkumannya:
Monstro bisa kita anggap sebagai versi full-frame, sebab sensor ini mampu merekam video 8K 60 fps dalam format VistaVision (VV). Ukuran sensornya adalah yang paling besar, dan kalau diukur panjang diagonalnya, sangat mirip dengan sensor full-frame (Monstro 46,31 mm, full frame 43,27 mm).
Sama seperti Monstro, Helium juga bisa merekam video 8K 60 fps, hanya saja dalam format Super 35 yang lebih umum. Kalau diamati, dimensi fisik sensornya juga lebih kecil ketimbang Monstro.
Gemini punya dimensi yang tak jauh berbeda dari Helium (sedikit lebih besar), hanya saja resolusinya terbatas di 5K 96 fps, juga dalam format Super 35. Bukan cuma itu perbedaannya, Gemini juga mengemas teknologi Dual ISO yang membuatnya superior di kondisi minim cahaya.
Namun yang lebih menarik lagi justru adalah pemangkasan harga atas ketiga kamera tersebut. Monstro kini dibanderol $54.500, Helium $24.500, dan Gemini $19.500. Dibandingkan harga lamanya, konsumen bisa menghemat lebih dari $25.000 untuk Monstro dan Helium, atau $5.000 untuk Gemini. Berbahagialah Anda yang dulu belum tertarik membeli, atau yang masih menabung.
Sumber: DPReview.
Are you sure to continue this transaction?
processing your transaction....