MDI and Finch Capital Closes First Round of $40 Million for Arise Fund
Target to invest in 25 Southeast Asia startups; at least 5 portfolios are ready to be announced
Arise Fund, a joint venture capital vehicle for early-stage startups in ASEAN, today announced the first close on its US$40 million debut tech fund. This round is a collection of corporate investors, family offices, and high-net-worth backers committing capital, including Indonesia's publicly traded ICT heavy-hitter Metrodata Electronics.
The managed fund aims to back 25 'real businesses' that are building interesting tech in SEA, specifically Indonesia. There are at least five portfolios ready to be announced at the end of this year. The deal, which is currently in the finalization stage, revolves around the SaaS, B2B commerce, agritech, and fintech sectors.
Arise Fund's Partner, Aldi Adrian Hartanto explained that, "Despite the significant influx of high-quality founders over the last decade, a disproportionate allocation of capital makes the situation more challenging for promising entrepreneurs to secure investments during the region's economic slowdown."
Launched in 2020, the fund mainly focusing on startups at post-seed and pre-series A stages. Arise offers ticket sizes ranging from US$250,000 to US$3 million per round, along with long-term capital, strategic go-to-market networks, and hands-on company building.
Finch Capital's Managing Partner, Hans De Back said, "We've seen many seed-stage companies struggling to access the right markets, which is reflected by a lack of traction [..] Our role is to solve this problem with immediate go-to-market avenues by collaborating with our network of enterprise partners such as Metrodata and portfolio companies. In this way, we can enable companies to grow much faster and set them up stronger for series A."
Long term investment
In addition to providing access to strategic go-to-market partners through its corporate LP network, the company also bridges asymmetric information related to validated business models, and empowers long-term capital through affiliated funds, including the Centauri Fund.
Hartanto adds, "Startups backed by Arise should ideally go on to receive investment from Centauri at the series A stage, MDI Ventures at series B and later stages, and finally -- in some cases -- see a meaningful exit via acquisition with Telkom Group as one of the potential buyers or IPO."
In the Arise Fund affiliate network, one of the largest venture capitalists in Indonesia with total assets reaching US830+ million, MDI Ventures has 56 portfolios spread across 10 countries and generated 5 exits. On its website, Finch Capital itself has 29 international portfolios to date.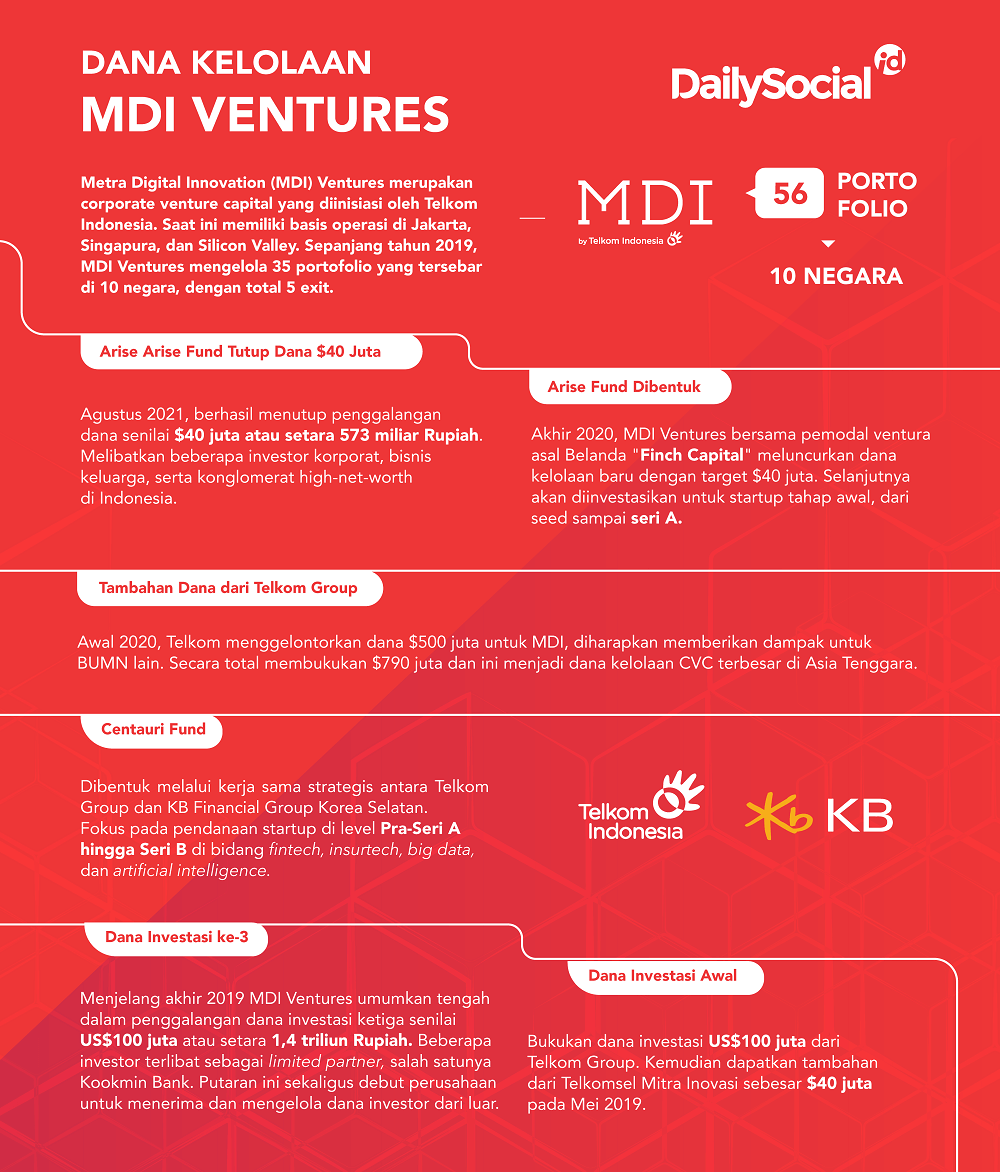 In order to foster long-term success, Arise's strategic LPs and teams come with a unique, three-pronged offering to founders based on a proven global thesis and local conviction. The fund proactively looks for world-class -aspiring founders, then together builds companies with them while simultaneously looking for problems the startups can solve within its orbit and network of corporate LPs.
In addition, before receiving capital from Arise, startups will also have an option to enter Telkom's Indigo Nation incubator, arrive at what they determine to be a repeatable and scalable business model, and then benefit from a broad network of Arise's corporate LPs and tech ecosystems in Europe, Asia, and Silicon Valley.
–Original article is in Indonesian, translated by Kristin Siagian
Are you sure to continue this transaction?
processing your transaction....