Analisis
Memahami Alasan Gojek Ambil Saham Minoritas Blue Bird
"The enemy of my enemy is my friend"
Di keterbukaan tanggal 14 Februari lalu, PT Blue Bird Tbk (Blue Bird) mengakui bahwa keluarga pengendali perusahaan telah menjual 4,3% saham senilai sekitar $30 juta (411 miliar Rupiah) ke pembeli yang tidak disebutkan namanya. Bloomberg menyebutkan pembelinya adalah Gojek yang rumornya sudah berseliweran sejak akhir tahun lalu.
Publik tentu bertanya-tanya kenapa Gojek sangat meminati saham perusahaan taksi terbesar di Indonesia ini. Menurut hemat kami, ada beberapa poin yang menjadi perhatian tentang ketika Gojek menggandeng Blue Bird dalam usahanya bersama-sama mendominasi pasar layanan transportasi on-demand di Indonesia.
Aliansi dan inovasi
The enemy of my enemy is my friend. Menghadapi Grab yang memiliki pendanaan besar dari investor-investornya, termasuk pengembangan mobil listrik, adagium tersebut terasa logis ketika Gojek menggandeng (dan mengikat) Blue Bird untuk bersama-sama "memenangkan" pasar Indonesia.
Inovasi Grab dalam setahun terakhir ini di Indonesia termasuk pesat dengan menginisiasi lini taksi Greenline dan menghadirkan lini mobil listrik bersama Hyundai--sebagai salah satu investornya.
Ketimbang sendiri-sendiri "berperang", keduanya beraliansi dan berinovasi. Blue Bird memiliki diversifikasi lini produk yang luas, termasuk mobil listrik BYD dan Tesla, di berbagai kota besar Indonesia tapi memiliki PR besar soal inovasi digital.
Di sisi lain, Gojek termasuk dalam jajaran startup yang paling cepat inovasinya, termasuk lini pembayaran, tapi memiliki kekurangan diversifikasi lini produk transportasi. Mereka sangat bergantung pada kendaraan mitra pengemudi.
Transformasi digital untuk Blue Bird
Sebagai sebuah perusahaan terbuka, sesungguhnya sangat terlihat bahwa kapitalisasi pasar Blue Bird dan profitnya tidak kunjung membaik sejak puncaknya di awal 2015 (sebelum booming layanan on-demand masuk Indonesia).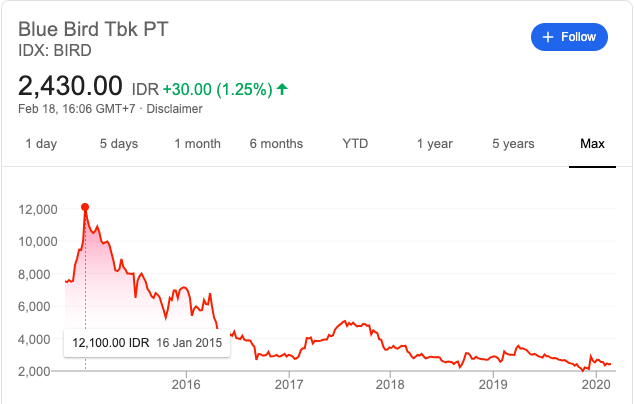 Kala itu nilai per lembar saham Blue Bird mencapai angka Rp12.100. Per tulisan ini dibuat 5 tahun kemudian, angkanya menyusut menjadi Rp2400-an, artinya kapitalisasi pasar perusahaan hanya tinggal seperlimanya.
Dengan secara resmi menjadi pemilik (minoritas), transfer teknologi, misalnya sistem pemetaan, penentuan PoI (Point of Interest), dan cara berkomunikasi pengemudi dan penumpang seharusnya menjadi agenda Gojek.
Diharapkan kolaborasi ini bisa menjadi sinyal positif, terutama bagi investor publik, bahwa Blue Bird dapat terus bertahan dan relevan. Tidak seperti perusahaan taksi lainnya yang luluh lantah di antara badai layanan on-demand dengan suntikan dana jor-joran.
Apakah bakal menjadi tren?
Kita harus wait and see melihat hasil kemitraan yang lebih luas antar kedua perusahaan tahun ini. Fokus Gojek yang mulai mengejar pendapatan dan keuntungan semakin pas disandingkan dengan korporasi seperti Blue Bird.
Masih terlalu prematur untuk berspekulasi tentang arah kolaborasi keduanya, atau apakah sinergi seperti ini bakal menjadi tren baru antara startup teknologi dan perusahaan konvensional.
Yang jelas Gojek telah satu langkah di depan dalam membentengi Blue Bird, sebagai perusahaan taksi dengan brand value terbaik, dari godaan kompetitor-kompetitornya. Bukan tidak mungkin kita akan melihat pilihan GoSilverBird atau GoBlueBirdElektrik dalam waktu ke dekat.
Are you sure to continue this transaction?
processing your transaction....