Modern Combat 5: Blackout Telah Diluncurkan di Google Play & Apple Store
Yoga Wisesa - 24 July 2014
Banyak yang bilang bahwa seri game Modern Combat garapan Gameloft adalah reinkarnasi Call of Duty di platform mobile. Sebagai permainan keempat, Zero Hour lebih terasa seperti Black Ops II dibanding Modern Warfare. Dan bagi Anda yang gatal untuk segera menikmati sekuelnya, pada tanggal 23 Juli kemarin, Modern Combat 5: Blackout dirilis di Apple store dan Google Play.
Seperti Zero Hour, Modern Combat 5: Blackout menyajikan mode campaign berupa misi-misi terpisah dengan gaya permainan berbeda. Walaupun mengusung genre first-person shooter, dalam beberapa misi Anda akan mengontrol senjata turret dari perahu, helikopter, hingga drone terbang.
Salah satu perubahan terbesar dalam Blackout dibandingkan game-game Modern Combat sebelumnya adalah durasi tiap misi yang lebih singkat. Dalam Zero Hour, satu level berjalan selama 15 hingga 20 menit. Tapi tiap misi yang dimiliki Modern Combat 5: Blackout dapat diselesaikan antara lima hingga 10 menit.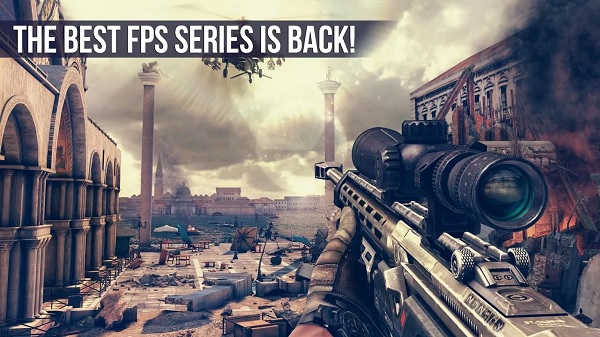 Info menarik: Riot Games Rilis Video CGI Epik League of Legends Berjudul A New Dawn
Blackout juga memperkenalkan fitur allies, pertama kalinya dalam seri Modern Combat. Allies adalah para karakter yang mengikuti pemain, dan turut membantu Anda di medan tempur. Sebagai tambahan, karakter-karakter tersebut akan 'membangkitkan' pemain jika mereka terbunuh dalam misi campaign.
Sistem spesialisasi karakter yang hadir di Modern Combat 4 juga telah diganti dengan penyajian yang lebih baru. Terdapat empat pilihan kelas, masing-masing dengan skill dan persenjataan berbeda: Assault bisa mengakses senapan serbu dan pistol, Heavy dipersenjatai senapan tabur dan senjata peledak, kelas Recon dapat memilih submachine gun dan pistol, sedangkan Sniper terspesialisasi untuk menggunakan senapan khusus penembak runduk ditambah pistol.
Persenjataan baru bisa Anda buka dengan membunuh musuh dalam jumlah tertentu. Misalnya, jika Anda mahir mengalahkan lawan dengan shotgun, maka senjata sejenislah yang makin banyak tersedia. Setelah di-unlock, senjata itu bisa digunakan baik dalam mode singleplayer maupun multiplayer.
Info menarik: Game Infectonator: Survivors Dikopi dan Diedarkan Secara Ilegal di Apple Store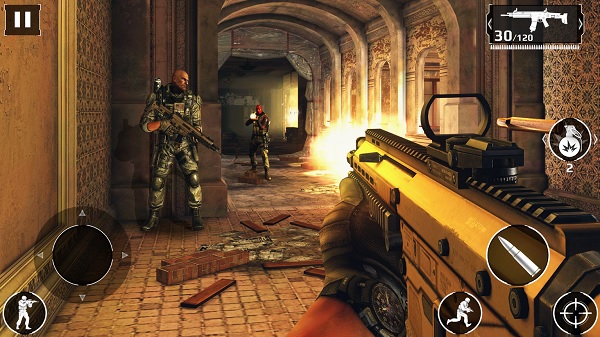 Gameloft memastikan bahwa Blackout bukanlah app freemium dan tidak ada sistem mata uang di dalam permainan. Anda tidak bisa membeli akses ke senjata tertentu dengan uang sungguhan, satu-satunya cara mendapatkannya adalah dengan bermain sungguh-sungguh. Skill point yang Anda dapatkan bisa digunakan untuk meng-upgrade kemampuan karakter, lalu aksesori attachment pada senjata harus satu per satu dibuka dengan menggunakannya.
Dibanding seri sebelumnya, Modern Combat 5: Blackout memiliki visual yang jauh lebih baik. Game ini memiliki efek cahaya dan bayangan yang lebih canggih, begitu juga dengan efek ledakan serta lubang-lubang peluru yang dihasilkan hantaman proyektil. Peluru yang Anda tembakkan mampu menghancurkan lebih banyak objek. Dan dengan fitur visual SSAO (Screen Space Ambient Occlusion) bayangan di-render lebih realistis.
Segera miliki Modern Combat 5: Blackout dengan mengunjungi toko aplikasi perangkat mobile yang Anda miliki. Versi iOS ditawarkan seharga US$ 8,99, sedangkan untuk perangkat Android, Blackout dibanderol dengan harga Rp 69.000.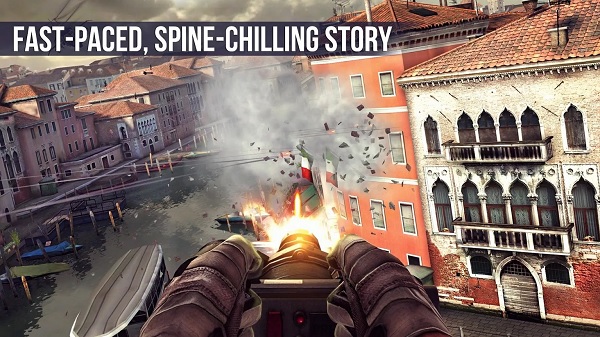 Sumber gambar: Google Play.