nPerf Survey: Telkomsel as 2018's Best Internet Provider, Indosat Ooredoo Ends Up at the Bottom Line
Based on 636.757 trials of speed, streaming, and browsing
nPerf is a France-based company engaged in the internet quality assurance. They recently released a "Barometer of Mobile Internet Connection in Indonesia" report, assuring the quality of six mobile internet provider. In the report, nPerf appointed Telkomsel as 2018's best internet provider. Followed by XL, Smartfren, Bolt (calculated before Bolt termination), 3 Tri, and Indosat Ooredoo.
The result is based on 636.757 trials of speed, streaming, and browsing. In addition, assurance aspects, including ratio, success ratio, download bitrate, upload bitrate, latency, browsing, and YouTube streaming.
Telkomsel is not the leading of all aspects. Only the bitrate upload and browsing ability make it to number one.
On the other hand, XL Axiata become a serious competitor to all mobile internet providers in Indonesia. XL Axiata is just slightly under Telkomsel on the second position.
In terms of success rate, XL has 69,32% and Telkomsel is at 64,33%. XL surpasses Telkomsel in YouTube streaming aspect.
Smartfren in general is leading the success ratio with 69,43% and download bitrate at 14,77 Mb/s; beats Telkomsel (8.06 Mb/s) and XL Axiata (6.68 Mb/s).
However, 3 Tri and Indosat are far way down at the second last. Download bitrate and upload bitrate in particular. 3 Tri only needs to increase the average of download bitrate for 3.15 Mb/s and upload bitrate 3.44 Mb/s. Indosat, by 6.97 Mb/s download bitrate and 1.19 Mb/s upload bitrate.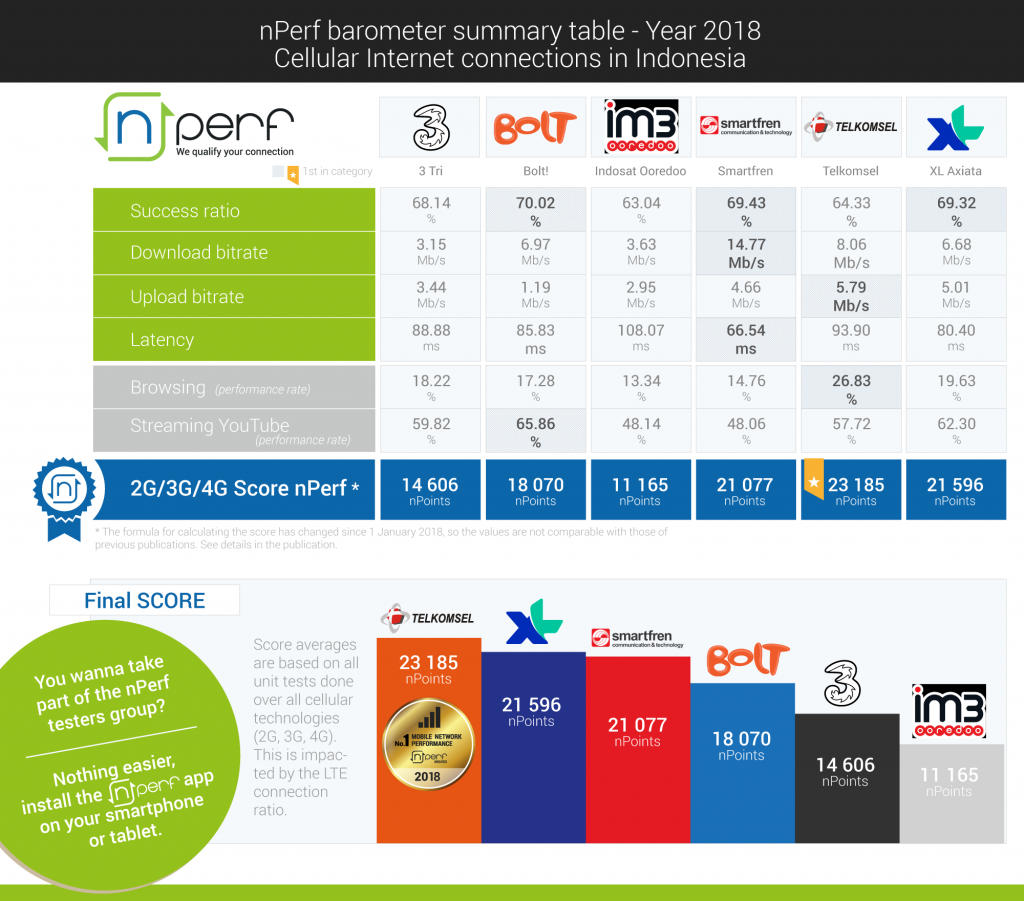 Bolt and Smartfren are best for 4G connection in 2018
nPerf, aside from highlighting overall results on all types of networks, also conducted a survey at 266,446 4G terminal points in Indonesia for mobile internet provider assurance. As a result, Smartfren and Bolt won this round. Far beyond other providers.
In terms of success ratio using 4G, Bolt is at 99.98% and Smartfren is at 99.88%. Other providers, such as Telkomsel (66.83%), XL Axiata (72.93%), 3 Tri (59.82%), and Indosat Ooredoo (48,14%).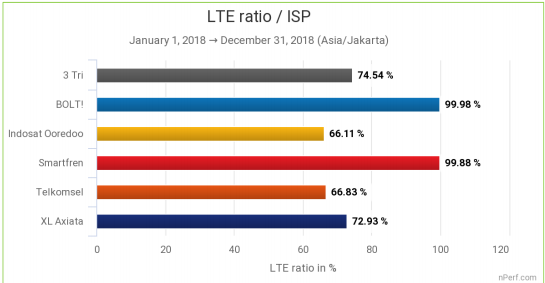 nPerf also highlights some provider with limited speed for incentive use, such as video streaming in high definition.
"When seeing the download speed, most cellular operators provide limited speeds for intensive use, such as video streaming in high definition. Only Smarfren provides download speeds that are sufficient for intensive use," nPerf wrote on its report.
– Original article is in Indonesian, translated by Kristin Siagian
Are you sure to continue this transaction?
processing your transaction....