Permainan Angry Birds Baru Ternyata Ber-genre Role-Playing Game
Yoga Wisesa - 13 March 2014
Kita semua sudah mendengar bahwa selain Angry Birds Stella, Rovio sedang mempersiapkan satu lagi permainan Angry Birds baru. Pertanyaannya adalah, seperti apa nanti permainannya? Apakah ia masih berpegang pada formula klasik mereka atau menyajikan sesuatu yang baru? Dan yang terpenting, apa nama judulnya?
Dari hasil teaser yang mereka lepas di internet beberapa hari lalu, khalayak menebak-nebak apa judulnya dan akan seperti apa permainannya. Angry Birds Legend, Skybirds, Angry Birds Knight Angry Souls adalah sedikit contoh tebakan para penghuni internet.
Misteri ini akhirnya terkuat, game tersebut ternyata dinamai Angry Birds Epic. Tebakan mereka tidak bisa dibilang sepenuhnya keliru, karena permainan ini merupakan langkah perdana Rovio menggarap sebuah role-playing game.
Info menarik: Update Aplikasi WhatsApp untuk Android Sediakan Fitur Untuk Bayar Biaya Langganan Teman
Tentu saja Angry Birds Epic tidak dibuat sekompleks Skyrim, Baldur's Gate atau Dark Souls, namun ia menggunakan konsep yang mulai kembali populer dalam genre RPG. Seperti Child of Light, Heroes of Might & Magic, Celestian Tales: Old North, hingga yang baru-baru ini dirilis, South Park: The Stick of Truth, Epic mengusung sistem pertempuran turn-based.
Sistem ini biasanya mengandalkan strategi taktik yang jitu ketimbang action-RPG, dan cocok untuk diimplementasikan ke perangkat mobile. Sayangnya hal ini juga mengkonfirmasi bahwa Angry Birds Epic bukanlah Plants versus Zombies: Garden Warfare - yang menjadi upaya PopCap untuk memperluas franchise mereka ke home console. Di sini, Rovio ingin bermain aman, memperdalam keahlian mereka dengan mencoba genre baru.
Dari apa yang ditulis Kotaku, Angry Birds Epic juga akan menyajikan sistem crafting yang detail. Sistem crafting biasanya hadir dalam RPG-RPG kompleks, dimana pemain dapat menciptakan item, potions atau spell dari barang-barang yang mereka kumpulkan. Hal ini juga mengindikasikan bahwa Epic tidak boleh kita remehkan, terlepas hanya akan dirilis di perangkat mobile.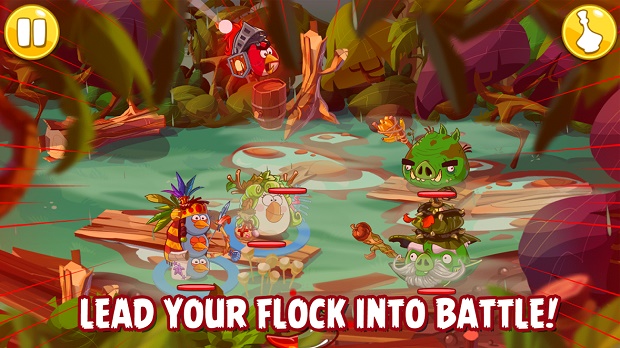 Info menarik: Game Android Pilihan 2 – 8 Maret 2014
Jika memang begitu, kita harap Rovio tidak tanggung-tanggung membuatnya. Saya sudah membayangkan permainan ini akan memiliki jalan cerita, kustomisasi item dan kedalaman taktik gameplay seperti sebuah RPG modern. Tapi apakah hal ini bisa tersaji sempurna jika mereka menerapkan model bisnis free-to-play? Bagi sebagian orang, sistem pay-to-play standar akan lebih masuk akal saat mereka mengharapkan satu produk digital yang utuh.
Atau apakah ia nanti akan tersaji secara episodik, dimana map-map baru akan tersedia secara menyusul? Banyak hal yang belum terjawab, namun kita akan mendengar lebih banyak tentangnya saat ia dirilis secara soft launching di Kanada dan Australia minggu depan.
Angry Birds Epic akan tersedia untuk platform Windows Phone 8, iOS dan Android.
Sumber gambar: Kotaku.
Are you sure to continue this transaction?
processing your transaction....