Platform Digital untuk Pekerja Kerah Biru
Memiliki turnover yang tinggi, kanal digital diharapkan bisa menyederhanakan proses
Pekerja kerah biru (blue collar worker) identik dengan "pekerjaan kasar". Jenis pekerjaan ini nyaris ada dan dibutuhkan di setiap lingkungan bisnis – ada yang sifatnya temporer, outsource, hingga pekerja tetap. Kecenderungan segmen ini dipenuhi kalangan low skill worker, orang-orang yang memiliki kompetensi minim – umumnya disebabkan karena akses ke pendidikan yang kurang baik. Menurut data BPS, per tahun 2019 kalangan low skill worker mendominasi sektor informal dengan angka 57,27%.
Masih dari survei BPS, per Agustus 2019 rata-rata pekerja informal tersebut mengantongi pendapatan 1,4 juta per bulannya. Di beberapa kota jumlah tersebut setara dengan UMR, namun di kota besar seperti Jakarta atau Surabaya, angkanya masih jauh di bawah UMR. Nyatanya permasalahan kesenjangan ekonomi memang menjadi salah satu yang mengakar di tanah air.
Selama pandemi Covid-19 berlangsung, mereka juga jadi salah satu kalangan yang paling banyak terdampak, khususnya di sektor padat karya atau yang memerlukan pergerakan manusia dalam menjalankan tugasnya.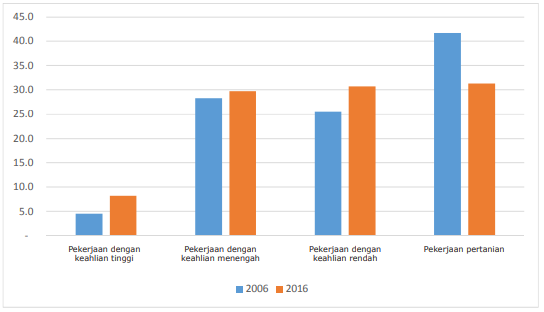 Startup digital melihatnya sebagai peluang
Salah satu DNA dari startup digital adalah menghasilkan solusi atas permasalahan spesifik di masyarakat. Beberapa founder berinisiatif untuk merampingkan kesenjangan pekerja kerah biru. Inovasi yang dihadirkan pun cukup beragam, mulai dari menjembatani akses antara bisnis (yang membutuhkan tenaga kerja) dengan para pekerja, hingga membantu memberikan edukasi instan yang dapat mendukung upayanya menemukan.
Kurniawan Santoso adalah salah satunya. Ia merupakan Founder & CEO Job2Go, sebuah portal/aplikasi job marketplace yang fokus pada pekerjaan kerah biru. Ia mengatakan, pangsa pasar blue collar yang mengacu pada kelompok pekerja dengan skill yang terbatas dan informal adalah segmen terbesar dari seluruh populasi angkatan kerja di Indonesia, hampir seluruh sektor usaha. Segmen pekerja ini masih akan terus menjadi tulang punggung kebangkitan ekonomi, termasuk untuk menggerakkan kembali perekonomian pasca-pandemi.
DS Premium Content
Become a DailySocial.id Subscription, you can get unlimited access to discover the best minds of innovation and to perceive the finest tech journalism products in Indonesia. Learn more
Single Article

Anytime access. But, only this article.

Starting at

Rp 3k - 7k /Article

Subscription

Unlimited access premium article.

Starting at

Rp 150k - 1,033k
Login or create account to access premium content
Are you sure to continue this transaction?
processing your transaction....