Bidik Generasi Muda, Samsung Galaxy A8 Tonjolkan Desain dan Kamera
Bambang Winarso - 2 October 2015
Pada bulan Juli lalu Samsung sudah secara resmi menghadirkan Galaxy A8 ke Indonesia. Tapi demi memperkenalkan kembali kecanggihan yang diboyong oleh smartphone tersebut, Samsung kembali menggelar acara pada hari Kamis kemarin (1/10/2015) di H Gourmet and Vibes, Jakarta.
Dalam kesempatan itu Samsung kembali menegaskan bahwa Galaxy A8 adalah smartphone yang dirancang untuk kaula muda atau yang dikenal dengan sebutan generasi A.
Vebbyna Kaunang, Marketing Director – IM Business, SEIN dalam keterangan tertulis yang diterima oleh TRL, mengatakan. "Menyadari kebutuhan dari karakter unik yang dimiliki oleh Gen A, Samsung menghadirkan Samsung Galaxy A8. Ditujukan untuk para Gen A yang terus berani mengeskplorasi hal-hal baru dan bahkan menciptakan tren terbaru serta berani keluar dari zona aman mereka. Dan dengan dukungan teknologi terdepan Galaxy A8 mereka bisa menciptakan trend dan bahkan memiliki keberanian untuk berbuat lebih bagi dirinya, dan dengan Galaxy A8 kami bisa mengatakan kepada mereka untuk Unlimit yourself."
Menyasar kaula muda, Samsung Galaxy A8 dirancang dengan desain unibody super tipis, ketebalannya hanya 5,9mm dengan penampang bezel yang hanya 2,5mm, menjadikan Galaxy A8 nyaman digenggam saat tetap aktif bergerak.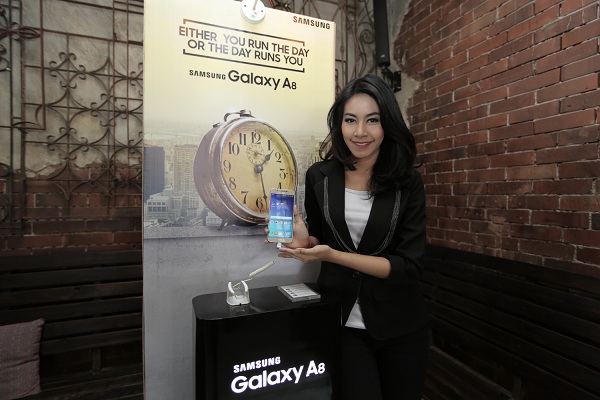 Selfie pun menjadi zona bidikan Galaxy A8 yang secara khusus mengikuti tren selfie di kalangan anak muda dengan bekal kamera depan 5MP plus bukaan f/1.9. Lalu di bagian belakang dihuni oleh kamera 16MP dengan fitur-fitur canggih penunjang fotografi modern.
Info Menarik:Punya RAM 2GB, Evercoss Winner Y Ultra Dilego Kurang dari Rp 1 Juta
Dengan dua bekal kamera berkualitas tinggi di atas, kaula muda yang menggunakan Galaxy A8 dapat mengeksplorasi kreativitas sekaligus menambah rasa percaya diri mereka saat bergaul.
Meski menunjang gaya hidup anak muda, tak lantas mengorbankan sisi performa. Untuk memastikan Galaxy A8 mampu mengimbangi gaya hidup aktif penggunanya, Samsung membenamkan chipset Exynos 5430 octa-core yang terdiri quad-core Cortex-A15 1.8Ghz dan quad-core Cortex-A7 1.3GHz dengan GPU Mali-T628 MP6, dan memiliki slot Dual-SIM Hybrid. Sebagai paduannya, ada RAM 2GB dan memori internal seluas 32GB.
Smartphone berbasis Android 5.1 Lollipop ini juga sudah mendapatkan dukungan 4G LTE, baterai 3.050mAh dan tentu saja sensor pemindai sidik jari.
Di Indonesia Samsung Galaxy A8 dibanderol Rp 6.499.000 dan dapat dipilih dalam dua pilihan warna, emas dan putih serta paket bundling bersama Telkomsel.
Are you sure to continue this transaction?
processing your transaction....