Tren Konsumen OTT di Indonesia
Menurut laporan The Trade Desk dan Kantar, saat ini 1 dari 3 orang Indonesia menonton konten OTT dengan rata-rata 41,4 jam per bulannya
Belum lama ini, The Trade Desk dan Kantar merilis laporan bertajuk "Future of TV". Di dalamnya meramu temuan hasil survei yang dilakukan kepada 6700 konsumen (16 tahun+) di Indonesia, Filipina, Singapura, Malaysia, Vietnam, dan Thailand terkait kebiasaan konsumsi media pada November 2021. Salah satu simpulannya, popularitas OTT meningkat di tahun ketiga pandemi.
Khusus di Indonesia, survei tersebut mengemukakan bahwa 1 dari 3 orang Indonesia menonton konten OTT, totalnya saat ini ada 83 juta konsumen. Secara total mereka menonton 3,5 miliar jam setiap bulannya --- atau rata-rata 41,4 jam per bulan tiap penonton. Pertumbuhan bisnisnya sendiri mencapai 40% yoy, menjadikan Indonesia memimpin konsumsi sekaligus pasar OTT di Asia Tenggara.
Demografi penikmat OTT
Di Indonesia, konsumen OTT lebih banyak dari kalangan perempuan dengan rata-rata konsumsinya melebihi 4 jam per hari. Sementara itu dikaitkan dengan usia, gen Z dan milenial [rentang usia 16-34 tahun] menjadi yang paling signifikan, jika ditotal persentasenya sampai 52%.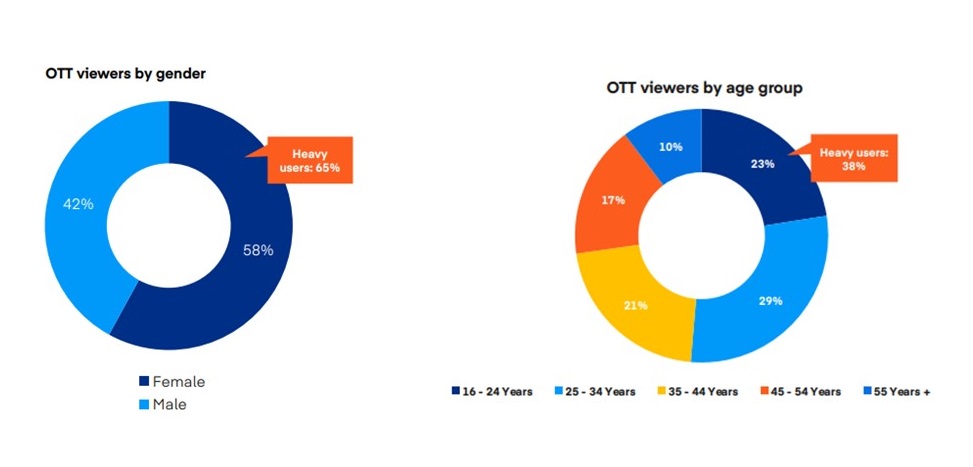 Survei juga menyoroti preferensi pengguna dalam memilih layanan media hiburan. Responden dari Indonesia 62% memilih OTT; dan 40% televisi tradisional. Dari tahun ke tahun, gap antara penikmat OTT dan televisi tradisional terus meningkat, di tahun 2020 mencapai 13%, kemudian meningkat 22% di tahun 2021. Khusus untuk Gen Z sendiri, mencapai 27%. Bahkan 27% dari penikmat OTT mengaku sudah tidak menonton TV tradisional selama minimal 3 bulan.
"OTT memainkan peran penting bagi orang Indonesia karena membantu menghilangkan stres dari pekerjaan atau belajar dan melewati masa lockdown tersulit yang pernah ada. Saya pikir itu akan terus memainkan peran penting dalam kehidupan kita karena menawarkan hiburan yang terjangkau di mana orang dapat mengaksesnya di seluruh perangkat kapan saja, di mana saja," ungkap periset di laporannya.
Preferensi memilih OTT
Dengan berbagai platform OTT yang ada, konten Drama Korea menjadi yang paling favorit, disusul konten Film Barat. 74% penonton perempuan di Indonesia menjadikan Drama Korea menjadi tontonan favorit, sementara 61% penonton laki-laki lebih memilih konten berbau olahraga.
Tren lain yang turut ditangkap dalam laporan, pengguna di Indonesia memanfaatkan OTT untuk "me time". Sebanyak 6% dari total pengguna OTT tinggal sendiri di rumah/apartemen/indekosnya. Sementara 54% hampir selalu menonton sendiri dan 94% terkadang menonton sendiri.
Menariknya, untuk medium menonton opsi smart TV mulai dilirik, kendati smartphone masih menjadi perangkat utama. 27% dari responden berencana untuk membeli smart TV di 6 bulan mendatang, 55% di 18 bulan mendatang.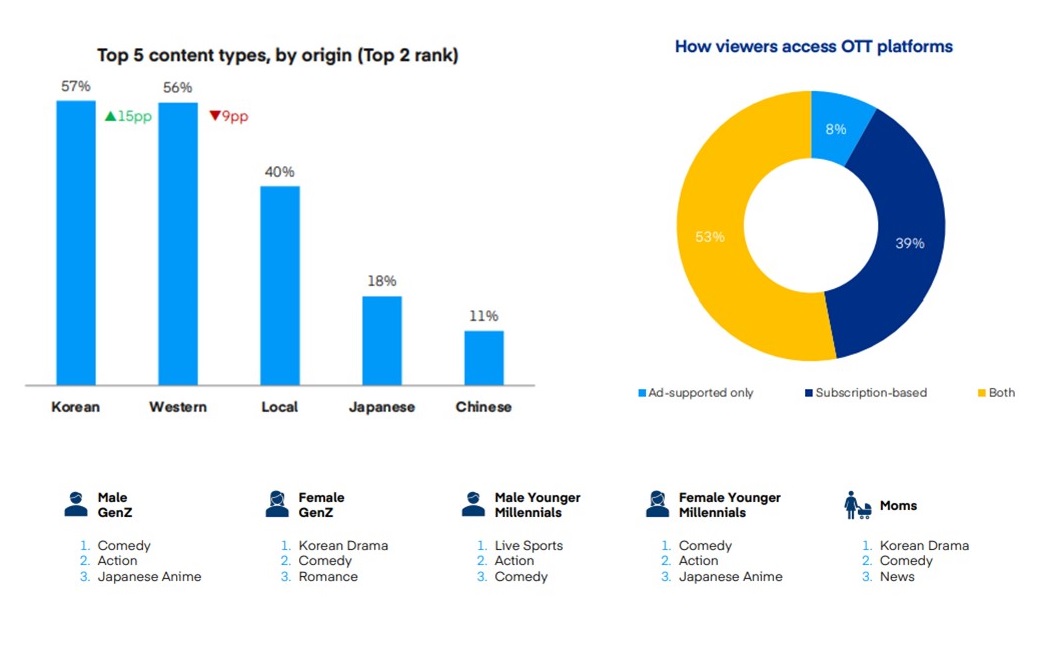 Model berlangganan ataupun iklan masih memiliki hati di kalangan pengguna OTT. Hal ini mengingat 90% dari pengguna di Indonesia menggunakan lebih dari 1 aplikasi.
Are you sure to continue this transaction?
processing your transaction....