Aruna Discloses Additional Series A Funding of 431 Billion Rupiah
The total funding that Aruna managed to raise in the series A round reached $65 million or equivalent to 934 billion Rupiah
Aruna announced an additional funding for series A round worth of $30 million or around 431 billion Rupiah led by Vertex Ventures. Some previous investors also participated, including Prosus Ventures, AC Ventures, East Ventures (Growth Fund), Indogen Capital, SMDV, and SIG Venture Capital.
Aruna's total funding in the latest series A investment has reached $65 million or equivalent to 934 billion Rupiah. Based on our data, Aruna's current valuation is exceeding $200 million.
The fresh money will be used to boost expansion to various regions in Indonesia, while increasing Aruna's market share in the global market. In addition, the company will use the funds to recruit local talent in building sustainable fisheries technology and infrastructure from upstream to downstream.
"This additional funding round has proven investors' trust in Indonesia's potential as the largest maritime country as well as Aruna's role as a pioneer in this sector. Aruna is committed to continue building a wider impact for Indonesia, especially coastal communities," Aruna's Co-Founder & CEO, Farid Naufal Aslam.
He also said, "This is in line with the government's agenda to encourage an inclusive and sustainable economy by encouraging the implementation of technology throughout the country. Our vision is to target Indonesia as the world's maritime axis and we expect to achieve this by revolutionizing the fisheries supply chain, building financial inclusion and encourage the implementation of sustainable fisheries,"
In 2021, Aruna has built 100 fishery communities with over 26 thousand registered fishermen. In addition, they have also opened 5 thousand job vacancies in rural areas, especially coastal areas. Last year, they sold 44 million kilograms of fisherman's catch to more than 8 countries. To date, Aruna has been operating in 27 provinces throughout Indonesia.
Tighten the B2B and B2C business model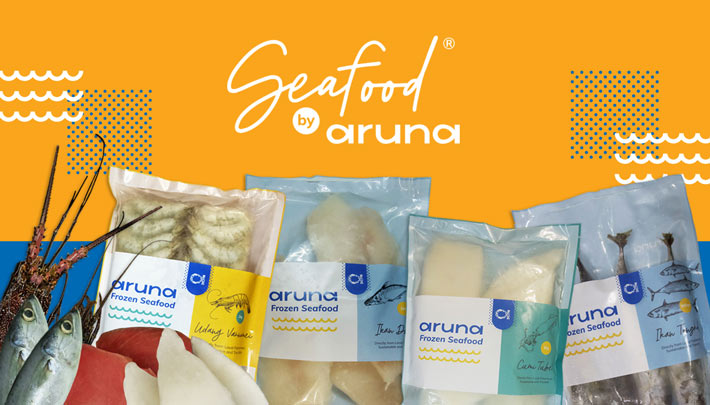 Was founded in 2016, Aruna provides a one-stop-shop and fisheries aggregator to streamline the supply chain of fishery products from fishermen to the global market. During 5 years of operation, Aruna claims to have increased up to 400x.
The company's main features is the sales of fisherman's fresh products. Aruna's system allows businesses to place orders in group (B2B) -- including for export purposes overseas.
In addition, they also serve personal orders for smaller quantities (B2C). In addition to fresh fisheries, Aruna has started exploring processed products by empowering rural communities with an agenda to help improve the economy of coastal communities.
"Our mission is to make the ocean a better source of life for all with the Sea For All campaign. We are committed to building infrastructure that supports sustainable fisheries, because we believe that profit will be achieved by balancing humans and the environment," Aruna's Co-Founder & Chief Sustainability Officer, Utari Octavianty.
Startup in fishery sectors catch investor's attention
As a maritime country, Indonesia holds a very big market share for fishery products. The increasingly mature digital ecosystem also build investors' confidence to support startups with vision to democratize this sector.
Earlier this year eFishery has managed to bag 1.2 trillion Rupiah funding. On the general note, eFishery develops a number of technological tools and digital supply chain systems to help fish/shrimp farmers improve their business. JALA Tech, in November 2021, announced funding worth of IDR 85.7 billion from several impact investors. One month earlier, DELOS received seed funding from Arise and MDI Ventures.
–Original article is in Indonesian, translated by Kristin Siagian
Application Information Will Show Up Here
Are you sure to continue this transaction?
processing your transaction....