Bermitra dengan Julo, Bukalapak Rilis Metode Pembayaran "BayarNanti"
Hanya bisa digunakan untuk transaksi pembelian barang fisik
Prayogo Ryza - 23 May 2019
Bukalapak kembali menambah metode pembayaran untuk transaksi di sistem mereka. Metode baru ini dinamai BayarNanti. Bekerja sama dengan Julo, penyedia layanan KTA online, memungkinkan pengguna membayar dengan menggunakan "kredit limit" Bukalapak.
Dari laman resmi Bukalapak pengajuan dan aktivasi metode BayarNanti saat ini hanya bisa dilakukan oleh pembeli yang berdomisili di wilayah Jakarta, Bogor, Depok, Tangerang, Bekasi, Bandung, dan Surabaya dengan ketentuan umur akun tidak kurang tadi 3 bulan.
Fitur BayarNanti untuk saat ini hanya bisa digunakan untuk pembayaran barang fisik dengan pembayaran penuh. Pembayaran kredit limit akan ditagihkan setiap akhir bulan, dan jika melebih jatuh tempo yang ditentukan maka akan dikenakan biaya keterlambatan.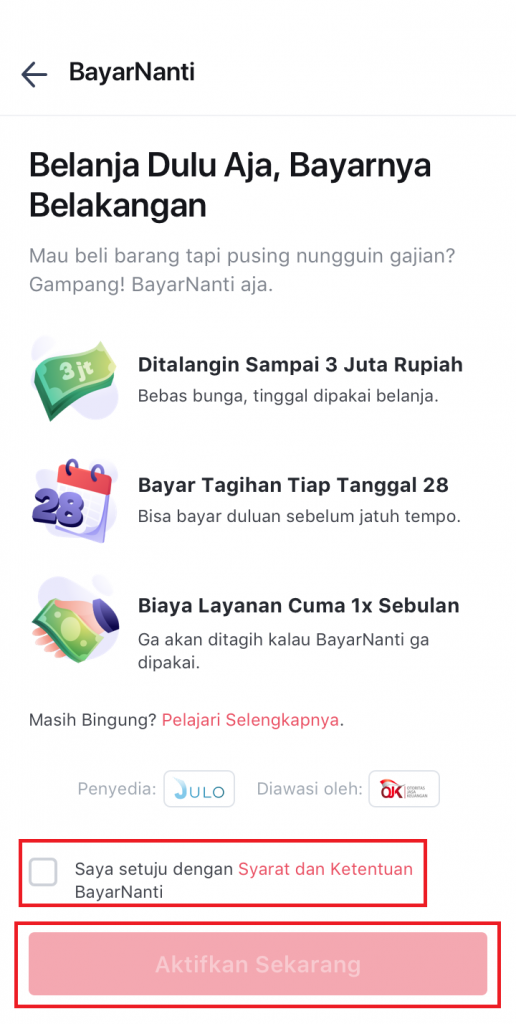 Untuk informasi, Julo merupakan penyedia layanan KTA online yang didukung beberapa investor seperti East Ventures, Skystar Capital, Convergence Ventures, dan sejumlah angel investor.
Menambahkan metode pembayaran menggunakan kredit limit juga dilakukan oleh Tokopedia. Bekerja dengan Ovo, mereka meluncurkan Ovo PayLater, yang merupakan hasil kerja sama Ovo dengan Taralite.
Ovo PayLater dan BayarNanti  sama-sama hanya bisa digunakan untuk transaksi pembelian barang fisik dan tidak bisa digunakan utnuk pembayaran tagihan, donasi, dan pembelian reksa dana dan emas.
Application Information Will Show Up Here
Dailysocial.id is a news portal for startup and tecnology innovation. You can be a part of DailySocial.id`s startup community and innovation members, download our tech-related research and statistic reports, and follow the latest news about startups and gadgets.