Cashlez Aims for Business Growth Through Online Merchant and Company Acquisition
The company plans for fundraising through a rights issue in the first quarter of 2022 to support the inorganic strategy
PT Cashlez Worldwide Tbk (IDX: CASH) plans to acquire a company to encourage inorganic business growth in 2022. To support this plan, Cashlez is to held a fundraising through the Pre-emptive Rights (HMETD) scheme or rights issue in the first quarter of 2022.
Cashlez brought up the news during a virtual media visit with DailySocial.id's editorial team. The Chief Revenue Officer, Djayanto Suseno and Corporate Secretary Hendrik Adrianto also attended this session.
His team said that Cashlez is to hold the first phase of the rights issue with a value of $10 million or around Rp143.8 billion to be used as working capital and product development. Furthermore, Cashlez will conduct a second phase of rights issue for acquisition inquiry.
Djayanto mentioned, the company is currently preparing a five-year roadmap which includes an organic and inorganic business strategy. Regarding inorganic strategy, Cashlez to create option for company acquisition. However, Djayanto could not provide further details on the business categories and lists of companies.
"That is why we fundraise through a rights issue. We are currently looking for investors who are prepared to be standby buyers. There are foreign investors want to chip in, also the local investors. We have submitted everything to our financial advisor, Bahana [Sekuritas]," he said.
He said, the company will continue to empower existing resources to encourage organic business development. However, that is considered insufficient considering that Cashlez wants to develop a larger digital payment ecosystem.
"For us, what is more important now is not about what to acquire, but how much funds to be raised. That way, we'll know what to buy," he added.
Cashlez was founded by Teddy Setiawan Tee in 2015 which offers financial solutions, payment gateways, payment aggregators, and mPOS solutions. In 2017, Cashlez obtained investments from Mandiri Capital Indonesia (MCI), and Sumitomo Corporation in 2019.
Targeting online merchants
On the general note, Cashlez has proceed 18 billion total transactions from 436 merchants in 2016. By the end of 2021, the company had served 13,000 merchants in six cities connected to 7,000 EDC devices. In further details by merchant category, 30% of users come from the retail segment, 18% from restaurants, and 12% from fashion.
Cashlez recorded Rp5.9 trillion total Gross Transaction Value (GTV) in 2020. Djayanto said that there will be a decline in GTV in 2021 at Rp4.3 trillion to Rp4.4 trillion. It is occurred due to the mall shutdown in a number of areas. The situation makes it difficult for merchants to sell out.
In order to anticipate the decline, Djayanto added, Cashlez will continue to increase the number of merchants, but will focus on MSME merchants that serve online transactions. As a comparison, the composition of offline merchants at Cashlez is 90%, and the remaining 10% is online. This year, Cashlez will significantly increase the online [transactions from merchants].
"To date, there has been no fintech with the ability [to serve transactions] on an O2O basis. Usually, it is solely has strong online presence. Therefore, we are the only ones with the O2O capabilities todau," he said.

Social commerce
The trend of buying and selling products through social media, aka social commerce, is growing significantly in Indonesia. Apart from the large population of social media users, the Covid-19 pandemic situation in Indonesia has actually triggered the emergence of small business players selling online.
A number of reports project that social commerce trends will continue to grow given the high potential in tier 2 and 3 cities that are starting to shift into online transactions. According to McKinsey research, social commerce transactions in Indonesia are estimated to account for $25 billion of the projected total GMV of e-commerce of $65 billion in 2022.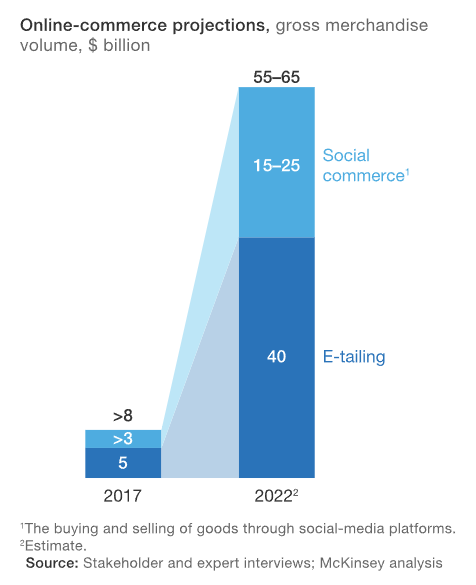 In reference to the Momentum Works report, social commerce is an attractive area for MSME players with cheaper cost for customer acquisition and more flexible users in exploring or finding the product they are looking for.
In the sampling, this trend is also predicted to provide a great opportunity for payment system considering that MSME players are yet to have access or the ability to provide it.
–Original article is in Indonesian, translated by Kristin Siagian
Application Information Will Show Up Here
Are you sure to continue this transaction?
processing your transaction....