Evermos Dikabarkan Mendapat Pendanaan Seri B, Diikuti Unit Ventura Milik Telkom Group
Total nilai investasi $23,9 juta atau sebesar 343,2 miliar Rupiah; putaran ini juga melibatkan UOB Venture dan beberapa investor dari tahap sebelumnya
Platform social commerce untuk produk halal Evermos dikabarkan membukukan putaran pendanaan seri B dengan total nilai $23,9 juta atau sebesar 343,2 miliar Rupiah. Berdasarkan data kami dapat, pendanaan baru ini dipimpin oleh UOB Venture melalui Asia Impact Investment Fund II.
Selain beberapa investor sebelumnya seperti Jungle Ventures, putaran ini turut diikuti venture arm milik Telkom Group, yaitu MDI Ventures melalui KB Centauri Master Fund dan Telkomsel Mitra Inovasi melalui TMI Master Fund I.
Sebelumnya, salah satu pendiri Evermos sudah mengonfirmasi perihal penggalangan dana ini beberapa waktu lalu. Evermos mendapatkan pendanaan seri A senilai $8,25 juta pada akhir 2019 yang diperoleh dari Jungle Ventures, Shunwei Capital, dan Alpha JWC Ventures.
Dari wawancara sebelumnya, Co-founder Evermos Ghufron Mustaqim mengatakan bisnisnya telah meraup pertumbuhan bulanan sebesar 20% di 2020. Evermos saat ini telah digunakan 500 pemilik brand, di mana 90% di antaranya adalah UMKM, memiliki 50.000-75.000 reseller aktif yang menjangkau 504 kota/kabupaten di Indonesia, dan melayani 200-400 ribu konsumen.
Upaya menjangkau kota tier 2 dan 3
Berdasarkan laporan bertajuk "Unlocking The Next Wave of Digital Growth" yang dirilis Alpha JWC Ventures dan Kearney Research pada April lalu, saat ini Evermos dapat dikatakan sebagai platform social commerce terbesar di Indonesia. Upaya Evermos mendorong perekonomian secara inklusif terlihat dari strateginya mengadopsi model berjualan berbasis reseller.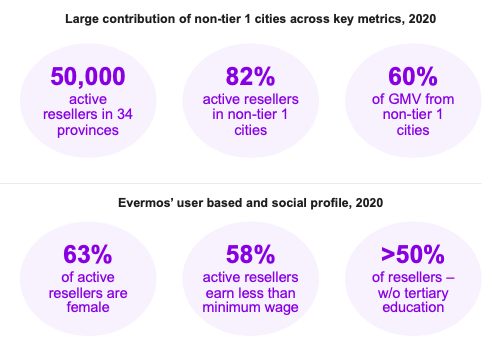 Welcome to Premium Content
Become a DailySocial.id Subscription, you can get unlimited access to discover the best minds of innovation and to perceive the finest tech journalism products in Indonesia. Learn more
Single Article

Access anytime, only this article.

Starting at

Rp 7,000 /article

Subscription

Unlimited access premium content.

Starting at

Rp 150,000 /month
Login or create account to access premium content
Are you sure to continue this transaction?
processing your transaction....