GMO Payment Gateway Berikan Dana ke Investree, Fintech Lending Lokal Makin Diminati Lender Institusi
Sebelumnya Investree juga dapatkan debt funding dari Accial Capital
Investree kembali menambah deretan institutional lender di ekosistemnya. Kali ini giliran GMO Payment Gateway yang bergabung, merupakan sebuah perusahaan teknologi pembayaran dari Jepang. Tidak disebutkan mengenai nominal debt fund yang diberikan.
Sebelumnya Accial Capital juga masuk jadi lender institusi di Investree, diumumkan bebarengan dengan pendanaan seri C2 senilai 213 miliar Rupiah yang baru didapat Investree. Co-Founder & CEO Investree Adrian Gunadi mengatakan, kerja sama kedua perusahaan sudah terjalin sejak tahun 2017.
Meski tidak menerangkan detail, disampaikan juga saat ini Investree sudah membukukan dana dari lender institusi lokal, yakni dari bank BUMN dan swasta.
Praktik menggandeng mitra institusi untuk memberikan pendanaan memang makin lazim diadopsi pemain p2p lending. Tujuannya jelas, mengakselerasi pertumbuhan dan penetrasi pinjaman mereka. Terlebih layanan seperti Investree fokus pada sektor produktif, seperti pembiayaan UMKM.
Konsepnya, dana pinjaman tersebut akan dikelola penuh oleh platform, untuk disalurkan melalui mekanisme pinjaman yang dimiliki. Dengan teknologinya, platform juga bertanggung jawab untuk melakukan seleksi dan penilaian kredit, termasuk memperhitungkan berbagai risiko yang mungkin terjadi.
Di Investree sendiri, dana disalurkan lewat beberapa mekanisme, meliputi invoice financing, buyer financing, working capital term loan, online seller financing, dan supply chain financing.
Beberapa pemain p2p lending juga umumkan telah mendapatkan dana investasi dari institusi. Di antaranya Modal Rakyat dari BRI dan BRI Agro, UangTeman dari Bank Sahabat Sampoerna, KoinWorks dari Bank CIMB Niaga dan Sampoerna.
Menurut laporan terbaru yang dirilis DSResearch dan AFPI, berdasarkan survei yang dilakukan terhadap C-level di perusahaan fintech lending lokal,  saat ini kebanyakan telah memiliki lender institusi dengan jumlah beragam.

Menariknya, 51% dari lender institusi yang ada sebagian besar bukan berasal dari perusahaan finansial. Kendati demikian perbankan, multifinance, dan BRP turut mendapatkan porsi dalam persentasenya. Sebagian besar dana pinjaman dari institusi nilainya juga sangat signifikan, 56,2% dari responden mengaku nilai yang didistribusikan telah mencapai di atas 50 miliar Rupiah.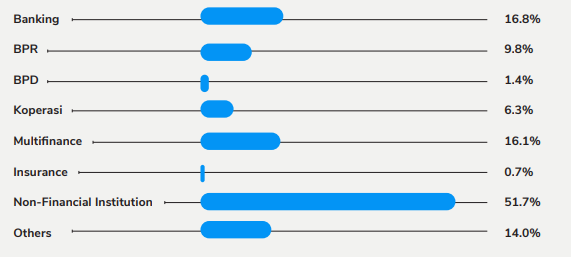 "Saat ini sudah ada beberapa pemain internasional yang bergabung sebagai lender institusi Investree dan GMO adalah salah satunya. Kami berharap hal ini bisa semakin menguatkan sokongan pendanaan bagi para UKM sehingga mereka dapat semakin berdaya dan terakselerasi di masa pemulihan pandemi Covid-19 ini," ujar Adrian.
Head of Asia Strategic Investment & Lending GMO-PG Kohei Nakajima mengatakan, "Kami pertama kali bertemu dengan Investree pada 2018 dan kerja sama kami dimulai pada 2019. Melalui kolaborasi penuh manfaat selama satu tahun belakangan ini, kami berkeyakinan kuat Investree merupakan mitra yang tepat untuk mendukung pemberdayaan UKM di Indonesia."
Menurut laporan yang disampaikan, per bulan Oktober 2020 Investree telah memfasilitasi pinjaman sebesar 7,3 triliun Rupiah kepada 1429 peminjam dan mencatat sekitar 120 ribu pemberi pinjaman di platformnya. Selain menambah deretan kolaborasi strategis, Investree juga memperkuat kehadiran regionalnya dengan berekspansi ke Thailand dan Filipina pada tahun ini.
Application Information Will Show Up Here
Are you sure to continue this transaction?
processing your transaction....