Hari ini (21/3), layanan direktori mal GoToMalls mengumumkan kerja sama strategis dengan Indosat Ooredoo dan Grab. Kerja sama ini nantinya diharapkan dapat mendongkrak jumlah pengunjung ke mal/pusat perbelanjaan.
Dengan Grab, pengunjung nantinya akan mendapat kode promo khusus untuk destinasi mal tertentu yang sudah bekerja sama dengan GoToMalls. Serta memperoleh poin untuk GrabReward yang dapat ditukar dengan peritel tertentu. Sementara itu, dengan Indosat Ooredoo lewat aplikasi e-money Dompetku akan memungkinkan kemudahan transaksi dengan merchant di GoToMalls dengan promo dan kupon.
GoToMalls adalah platform online real time berbasis lokasi terdekat memberi informasi mengenai promosi, diskon, kupon, dan acara di mal/pusat perbelanjaan. Informasi tersebut dipakai untuk mendongkrak jumlah pengunjung lebih banyak lagi.
GoToMalls merupakan platform yang dibangun DominoPos Pte Ltd, sebuah perusahaan teknologi yang bergerak di pengembangan perangkat lunak untuk mobile payment dan CRM berbasis di Singapura. DominoPos adalah salah satu investment arm yang 30% sahamnya dimiliki oleh perusahaan investasi PT Kresna Graha Investama Tbk.
Sebenarnya, GoToMalls sudah diresmikan sejak Juli 2016. Hingga kini sudah menjaring 375 mal/pusat perbelanjaan, lebih dari 5 ribu merek ritel dan 19 ribu outlet yang tersebar di seluruh Indonesia. Dari segi kunjungan, situs GoToMall telah menembus di angka 1 juta orang perbulannya, dengan total page views sekitar 2,1 juta.
Setelah Indonesia, pada Februari 2017 GoToMalls telah menyambangi Singapura dan telah bekerja sama dengan 20 mal. Negara berikutnya yang akan dibidik GoToMalls masih berada di kawasan Asia Tenggara dan pastinya sudah memiliki jumlah mal yang banyak.
"Kami sudah ekspansi ke Singapura, mungkin sekitar dua atau tiga bulan lagi akan menyasar negara baru yang masih berada di kawasan Asia Tenggara. Namun sebelum ekspansi kami ingin memastikan basis bisnis di Indonesia dan Singapura sudah kuat, baru melanjutkan ke negara lainnya," ucap CEO GoToMalls Bruno Zysman, Selasa (21/3).
Jembatani mal dengan strategi online to offline (O2O)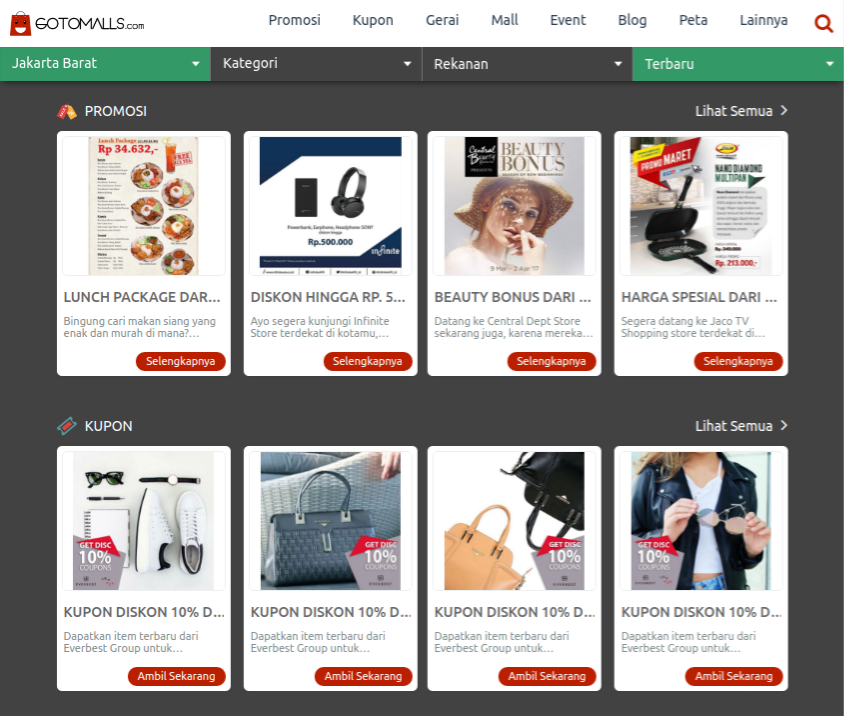 Zysman melanjutkan GoToMalls dihadirkan untuk menjembatani kegiatan belanja secara offline dengan teknologi dalam platform GoToMalls. Pengunjung hanya cukup mengunjungi satu website dan mereka akan mendapatkan semua informasi di pusat perbelanjaan dalam waktu yang bersamaan.
Strategi ini dinilai cukup ampuh untuk mendorong jumlah pengunjung mal lebih banyak lagi. Pasalnya, sejak 2015 pertumbuhan jumlah pengunjung secara tahunan hanya tembus satu digit saja secara industri atau sekitar 7%-8%. Padahal sebelumnya pertumbuhan di 2013-2014 tembus di angka 10%-15%.
"Yang kami lakukan dengan GoToMalls adalah membantu para peritel offline agar dapat mempromosikan produk maupun jasa mereka secara online dan efisien," terang Zysman.
Ke depannya, GoToMalls akan terus mengembangkan fitur lainnya seperti integrasi pembayaran online untuk pembelian kupon belanja, meluncurkan aplikasi GoToMalls untuk Android dan iOS, dan lainnya.
Pergeseran pola belanja konsumen di mal
Sekretaris Jenderal Asosiasi Pusat Belanja Indonesia (APPBI) Alphonzus Widjaja menambahkan sejak tiga tahun terakhir industri mal/pusat berbelanjaan mengalami kelesuan, tetap bertumbuh namun hanya satu digit bukan dua digit. Faktornya meliputi perubahan pola belanja masyarakat yang lebih banyak berbelanja untuk kebutuhan food and beverages (FnB) dan entertainment.
Kehadiran toko online (e-commerce) juga turut mempengaruhi untuk kebutuhan elektronik, terutama gadget mengalami penurunan drastis karena tingkat persaingan harga yang jauh lebih murah dibandingkan dengan e-commerce.
"Mal tetap bertumbuh, tapi cuma satu digit. Faktornya karena terjadi pergeseran pola belanja. Secara faktor ekonomi makro, meski pertumbuhan ekonomi Indonesia melemah tapi jumlah kunjungan ke mal tetap tumbuh. Ini terjadi karena faktor melemahnya nilai tukar Rupiah, berefek pada orang-orang yang sebelumnya sering belanja ke mal di luar negeri kini beralih ke mal lokal," terang Alphonzus.
Untuk mengembalikan kejayaan mal, pemilik usaha mal harus mengubah strategi mereka agar banyak melakukan promosi lewat platform digital. Mereka juga harus memposisikan mal bukan lagi sebagai tempat belanja, melainkan sebagai sarana lifestyle dengan konsep yang jelas.
"Misalnya sering mengadakan event offline, atau menyediakan spot khusus untuk selfie. Gunanya untuk tetap menarik orang-orang tetap mengunjungi mal. Bila mal tidak melakukan ini, pasti akan tergerus oleh e-commerce. Mal itu punya kelebihan yang tidak bisa disediakan e-commerce, yakni pengalaman berbelanja," pungkasnya.
DailySocial.id adalah portal berita startup dan inovasi teknologi. Kamu bisa menjadi member komunitas startup dan inovasi DailySocial.id, mengunduh laporan riset dan statistik seputar teknologi secara cuma-cuma, dan mengikuti berita startup Indonesia dan gadget terbaru.