Game
Humble Bundle Fall Sale Dimulai, Game Brutal Legend Dibagikan Gratis
Diskon paling fantastis sejauh ini adalah bundel Metro Redux.
Berdasarkan laporan terkini, Valve rencananya akan kembali menggelar 'Steam Black Friday Sale' tak lama lagi, dilaksanakan hingga tanggal 28 November nanti. Dan hampir bersamaan dengan momen itu, platform distribusi digital berkonsep 'berderma sambil berbelanja' lebih dulu memulai program potongan harga di layanan mereka, tiga hari sebelum Black Friday tiba.
Platform yang kini dimiliki oleh IGN Entertainment itu resmi melangsungkan Fall Sale, menerapkan diskon hingga 80 persen pada lebih dari 1.000 koleksi permainan di sana; termasuk judul-judul blockbuster besar seperti Project CARS 2, Tekken 7 dan Dark Souls III. Dan kabar gembiranya tidak berhenti sampai di sana. Humble Bundle juga membagikan versi PC permainan Brutal Legend secara gratis.
Untuk segera berbelanja, Anda tinggal mengunjungi situs Humble Bundle. Page utama memang tidak menginformasikan adanya diskon. Saat artikel ini ditulis, Humble Store sedang menawarkan Humble Care Package Bundel buat menggalang dana korban bencana alam. Lalu di bawahnya, terdapat Humble Strategy Strategy Simulator Bundle serta Comics Bundle.
Baru setelah scroll lebih jauh ke bawah, Anda akan melihat game-game dengan diskon bermunculan. Di sana, Humble Bundle meng-highlight sejumlah judul andalan, termasuk Planet Coaster (US$ 20), Grand Theft Auto V (US$ 30), Elite Dangerous (US$ 13,5), Tales of Berseria (US$ 20), Dawn of War III (US$ 20), dan lain-lain. Menariknya, Call of Duty: WWII juga turut muncul, namun jadi satu-satunya permainan yang tidak mendapatkan potongan harga.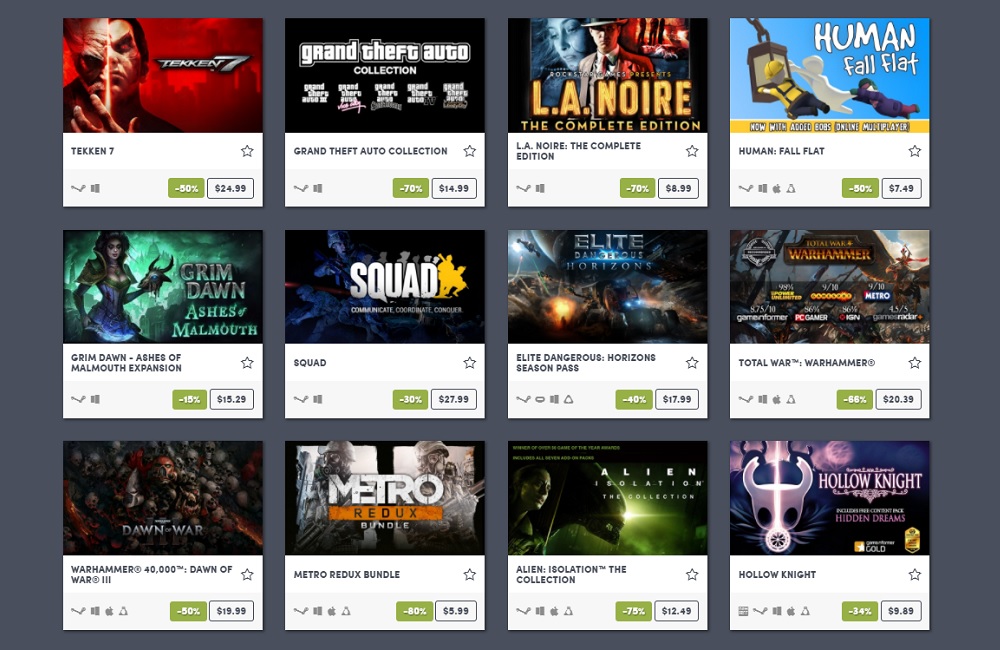 Diskon paling fantastis yang berhasil saya temukan ialah bundel Metro Redux. Redux merukan versi remake untuk platform current-gen, diimplementasikan baik pada Metro 2033 dan Metro: Last Light. Paket tersebut berisi dua game, ditawarkan seharga US$ 6. Lalu tak lama sesudah tersedia di PlayStation 4, Xbox One dan Switch, gamer PC dipersilakan membeli L.A. Noire: The Complete Edition seharga US$ 9 saja.
Diskon turut diberikan pada edisi bundel lain, contohnya koleksi Grand Theft Auto (US$ 15) dan Elite Dangerous: Commander Deluxe Edition (US$ 31,8). Sedikit saran dari saya adalah, jika Anda sudah menemukan judul yang sedang diincar, segera lakukan pembelian karena di beberapa game, diskon berjalan lebih singkat (contohnya Metro Redux Bundle, hanya dua hari).
Untuk memperoleh Brutal Legend secara cuma-cuma, silakan datangi page-nya di Humble Bundle. Setelah itu, segera log-in, tambahkan game ini ke keranjang belanja, checkout, lakukan verifikasi email, dan Anda akan mendapatkan kode produk yang bisa di-redeem di Steam.
Via Gamespot.
Are you sure to continue this transaction?
processing your transaction....