Begini Cara Membuat Laman di Later Untuk Media Sosial Bisnis Anda
Step by step membuat laman di Later untuk link bio media sosial bisnis Anda.
Later adalah platform yang dapat membantu Anda untuk membuat link di bio Instagram atau TikTok bisnis Anda. Sebagai pemilik bisnis, menaruh link di bio media sosial dapat berguna untuk bisnis dan Anda bisa mempelajari cara membuat laman link di Later pada artikel ini. 
Bagi yang belum tahu, Later bukan hanya platform untuk membuat link di bio media sosial. Melainkan, platform yang dapat membantu Anda untuk merencanakan jadwal posting konten, melakukan analytics, serta membuat link di bio.
Anda bisa mengakses Later dengan mengunduh aplikasinya di Google Play Store atau membuka situs web-nya, yaitu www.later.com. Platform ini ada versi gratis dan berbayarnya.
Cara Membuat Laman di Later
Ikuti langkah-langkah di bawah ini untuk membuat laman :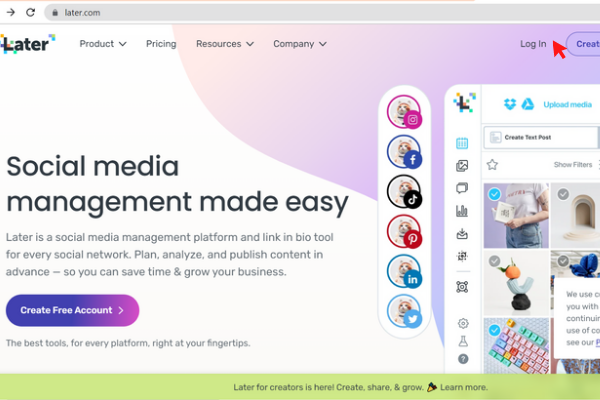 Klik Linkin Bio di kolom kiri.
Buatlah usernamelinkin bioyang sesuai dengan brand Anda, klik Get Started.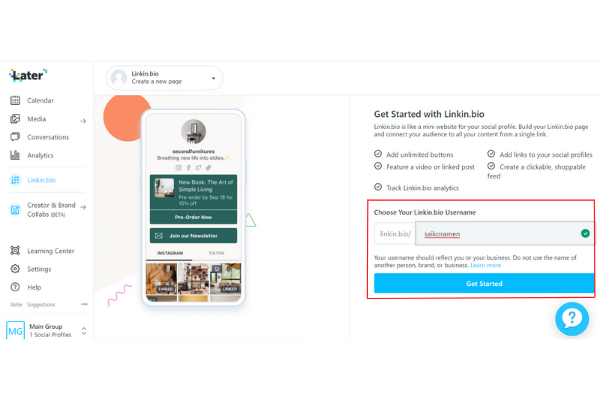 Pada bagian Profile, klik Edit.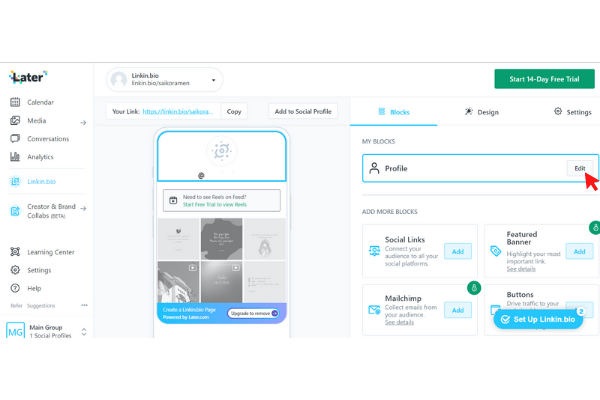 Tambahkan photo profile dengan mengklik Upload. Tulislah nama dan bio yang sesuai dengan bisnis Anda, lalu klik Save Changes.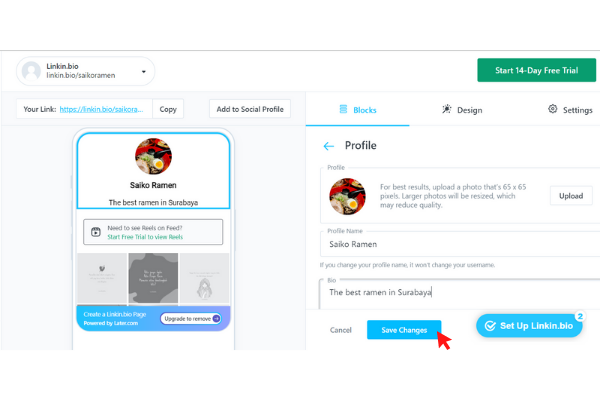 Jika Anda ingin menambahkan WhatsApp, email, atau akun media sosial bisnis Anda yang lain, pilih Social Links.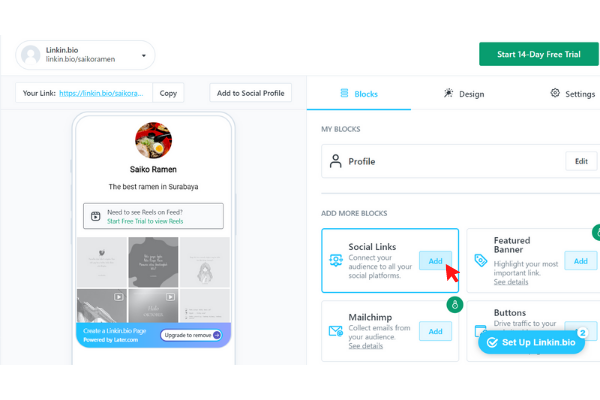 Klik Add Social Link, pilihlah salah satu opsi yang disediakan : 

Instagram
Facebook
Twitter
LinkedIn
Pinterest
YouTube
TikTok
Google My Business
WhatsApp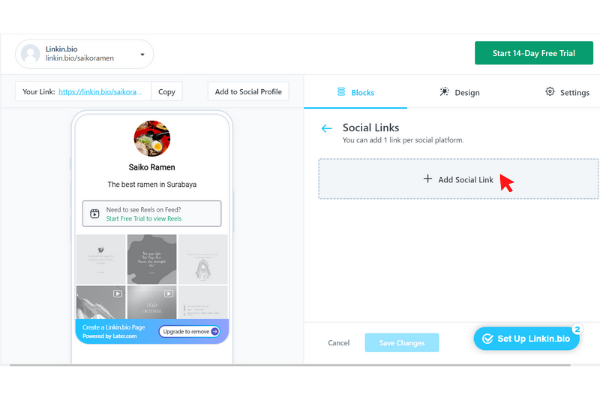 Anda bisa menambahkan Social Linklagi dengan cara yang sama. Lalu, Save Changes.
Terdapat 5 Blocks yang bisa Anda tambahkan di laman link Anda. Meski khusus Feature Banner dan Mailchimp, Anda harus membayarnya atau menggunakan 14 Day - Free Trials.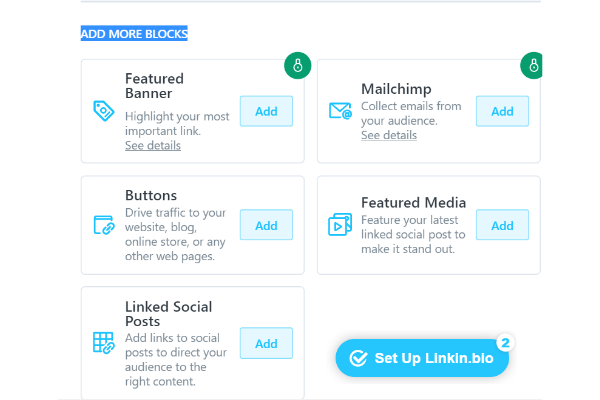 Klik Buttons bila Anda ingin membuat tombol untuk mengarahkan lalu lintas ke situs web, blog, atau online store. Pilih Add Button, tulis namanya, masukkan link-nya, lalu Save Changes.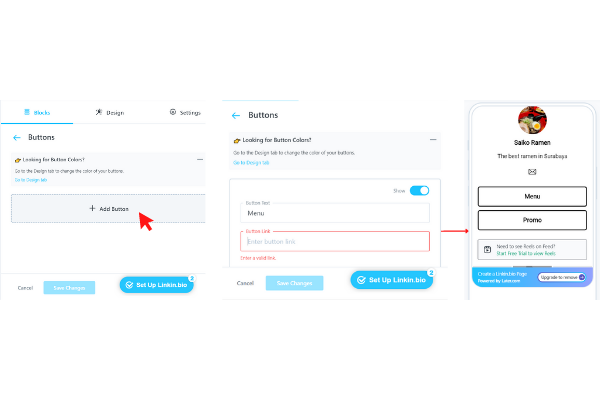 Klik Featured Media bila ingin menambahkan postingan sosial terbaru atau video YouTube Anda. Anda bisa memilih Instagram dan TikTok, sedangkan YouTube harus membayarnya. Lalu, klik Save Changes.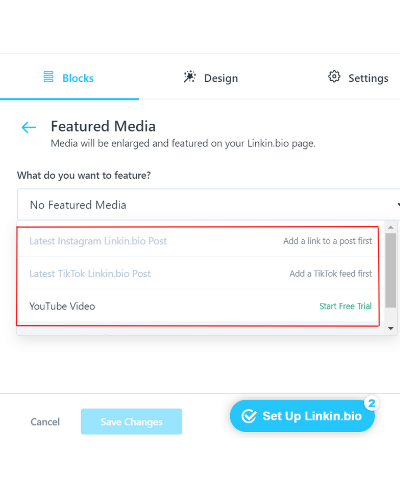 Klik Linked Social Post bila menautkan 1 postingan konten di feed Instagram dan TikTok Anda. Klik Manage, tap To add or edit links dan silahkan pilih salah satu postingan konten. Terakhir, klik Save Changes.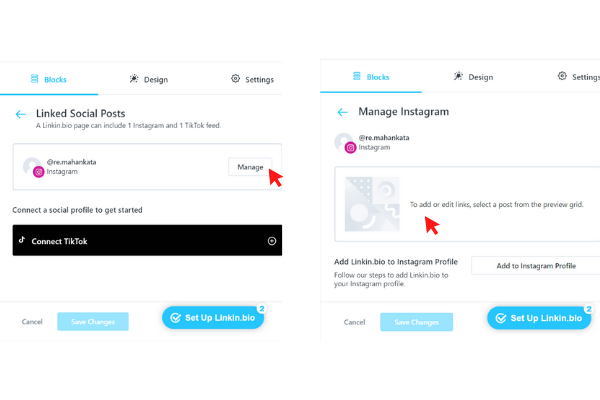 Nah, demikian informasi mengenai cara membuat laman di Later. Ingin tahu cara mempercantik laman Later Anda? Tunggu di artikel berikutnya ya.
Are you sure to continue this transaction?
processing your transaction....