CV Lamaran Kerja: Pengertian, Isi, dan Contoh
Kamu masih bingung membuat CV? Berikut artikelnya!
CV merupakan salah satu hal penting yang dilampirkan oleh pelamar kerja saat melamar pekerjaan. Biasanya, CV berisikan informasi secara lengkap dan singkat meliputi data diri, riwayat pendidikan, riwayat pekerjaan, dan kompetensi yang dimiliki.
Pengertian CV Lamaran Kerja
Curriculum Vitae bisa dibilang salah satu berkas persyaratan penting yang wajib dilampirkan saat melamar pekerjaan. Perekrut akan mempertimbangkan kompetensi dan kemampuan pelamar melalui dokumen ini. Dalam pembuatannya, kamu harus mampu menarik perhatian perekrut agar lolos seleksi berikutnya.
Isi CV Lamaran Kerja
Dalam pembuatannya, CV lamaran kerja memuat beberapa informasi yang perlu dicantumkan. Namun, kamu harus menuliskannya tanpa bertele-tele agar mudah dipahami oleh personalia perusahaan. Berikut isi CV lamaran kerja.
Data Diri
Data diri merupakan hal paling penting dalam CV lamaran kerja. Pada bagian ini, kamu bisa mencantumkann informasi mengenai dirimu, meliputi nama lengkap, alamat rumah, hingga kontak yang bisa dihubungi. Tentu saja supaya rekruter mudah menghubungimu.
Deskripsi Diri
Deskripsi diri atau kerapkali disebut tentang saya umumnya berisi penjelasan singkat mengenai profilmu. Penjelasannya pun tidak terlalu panjang, sekitar 5-8 kalimat saja. Kamu bisa mencantumkan prestasi atau keunggulan dirimu. Jadi, pada bagian ini usahakan kamu kamu bisa menarik perhatian rekruter, ya!
Pengalaman Kerja Selanjutnya yaitu pengalaman kerja. Jangan khawatir, jika kamu belum memiliki pengalaman, kamu bisa mengisinya dengan pengalaman magangmu, lho.
Kamu perlu mencantumkan informasi mengenai pengalaman kerja, meliputi posisi yang kamu tempati, nama perusahaan, durasi dan tahun kamu bekerja hingga deskripsi pekerjaanmu dan pencapaian yang telah kamu raih selama bekerja.
Riwayat Pendidikan
Nah, pada bagian riwayat pendidikan, kamu bisa mencantumkan pendidikan formal yang telah kamu tempuh. Cukup dua pendidikan terakhir dan terbaru saja. Informasi yang bisa kamu isi yaitu, nama sekolah atau perguruan tinggi, tahun pendidikan, dan juga nilai akhir yang kamu dapatkan.
Lampiran Pendukung
Untuk memperkuat CV lamaran kerja, kamu bisa menyertakan lampiran pendukung seperti portofolio ataupun sertifikat jika ada. Sertifikat yang dilampirkan umumnya berupa sertifikat kejuaraan, kepanitiaan, dan pencapaian lain yang pernah kamu raih. Adanya serifikat bisa menambah kesempatan untukmu lolos seleksi berikutnya.
Contoh CV Lamaran Kerja
Berikut adalah contoh CV lamaran kerja yang bisa kamu gunakan untuk menjadi acuan saat membuat CV. Sebelumnya, data yang tertera pada CV ini hanya contoh saja, ya. Kamu bisa mengubah datanya menyesuaikan dengan kebutuhanmu.
Elsa Nabila
083***** | [email protected] | Depok, Jawa Barat
Profile
Elsa Nabila is a fresh graduate with bachelor's degree in Communication from Universitas Negeri Jakarta. She is very passionate about raising her skills and experience in writing. Elsa is having so much eager in SEO articles, so she is currently building a personal blog and joining a digital marketing course to study more about Search Engine Optimization (SEO). Elsa finds interest in pursuing a professional career as a content writer.
Work Experience
Mitra Jaya Indonusa
Content Writer | June 2022 - Present
- Crafting Search Engine Optimization (SEO) articles.
- Drafting articles to Content Management System (CMS).
- Crafting articles for external clients.
Organizational Experience
Student Press and Publishing Agency
Editor in Chief | January 2019 - December 2019
- Organizing division members in carrying out meetings or other activities.
- Developing concepts and work programs, especially tasks for team member.
- Ensuring that work programs are accordant with the plans.
Education
Universitas Padjajaran
Bachelor's degree in Communication, GPA: 3.52 | August 2017 – August 2021
Skills
Language: Bahasa Indonesia (Native), English
Non-Technical:Teamwork, Creativity, Leadership, Public Speaking
Technical:Microsoft Office, Content Management System (CMS), Search Engine Optimization (SEO), KBBI & PUEBI
Contoh CV Lamaran Kerja Bahasa Inggris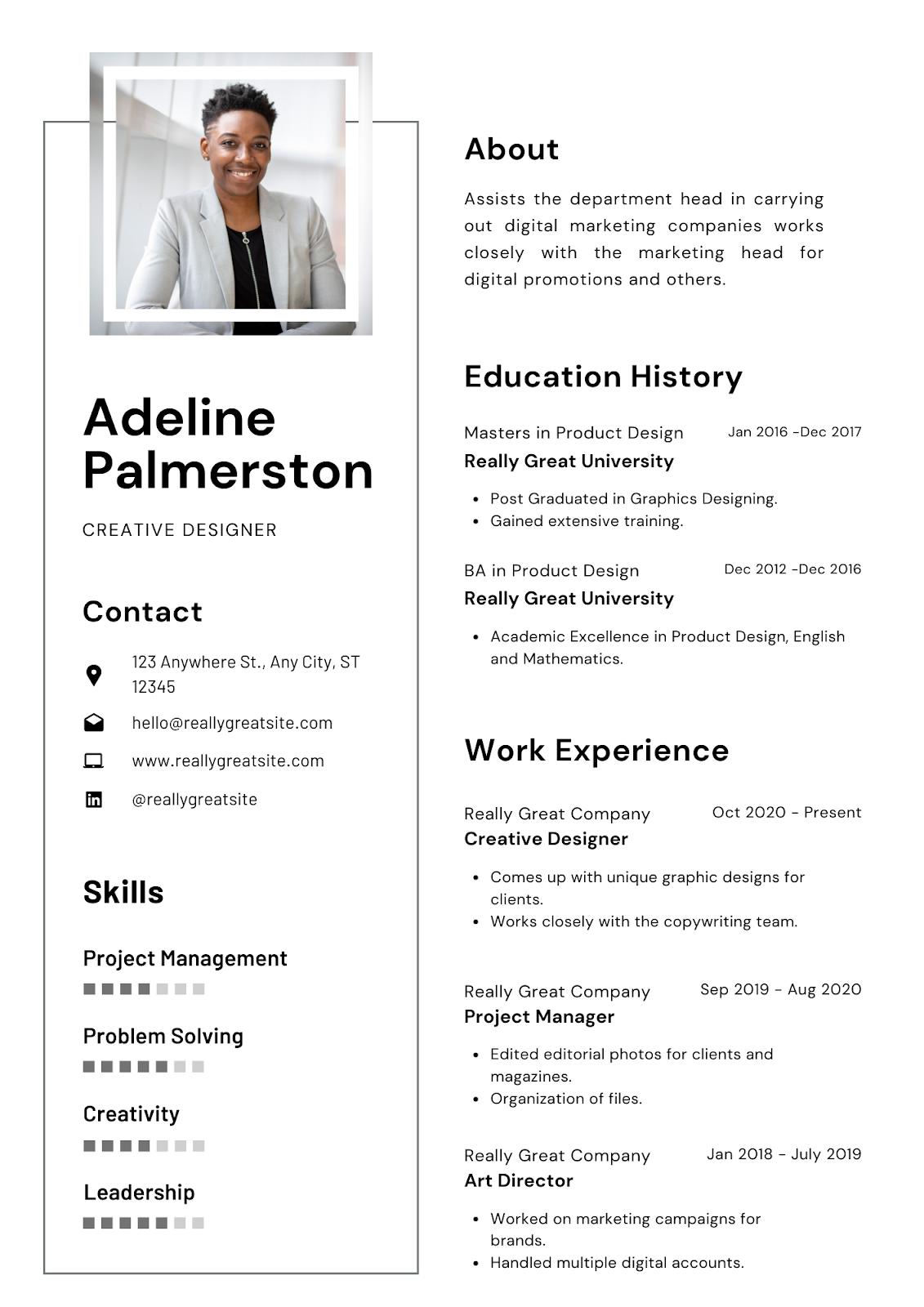 Contoh CV Lamaran Kerja Fresh Graduate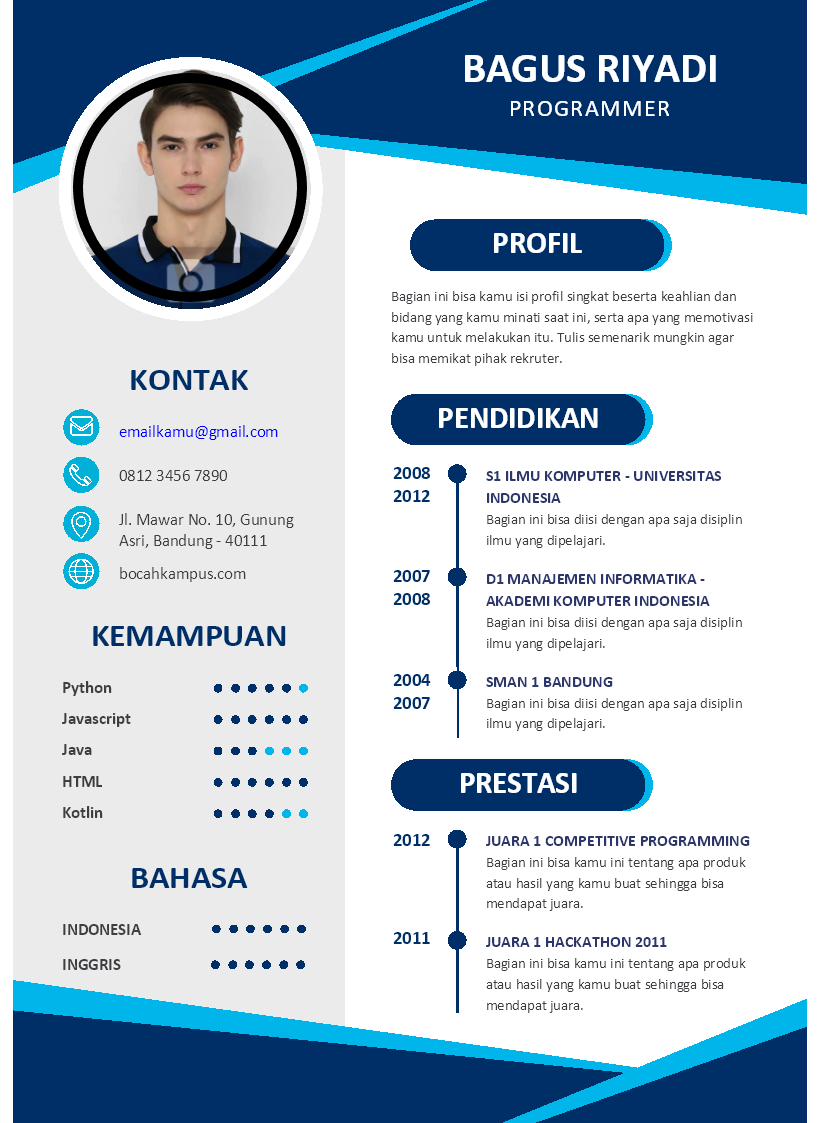 Nah, berikut contoh CV lamaran kerja yang baik. Pastikan kamu menggunakan bahasa baku, ya. Usahakan CV lamaran kerja kamu singkat namun padat informasi di dalamnya. Semoga artikel di atas bermanfaat!
Dapatkan Berita dan Artikel lain di Google News
Are you sure to continue this transaction?
processing your transaction....