Donald Wihardja Resmi Menjabat CEO MDI Ventures
Menggantikan posisi Nicko Widjaja yang sebelumnya kosong selama 9 bulan
Yenny Yusra - 8 May 2020
Setelah menjabat sebagai Partner di Convergence Ventures yang kini berubah nama menjadi AC Ventures pasca merger dengan Agaeti Ventures, Donald Wihardja resmi menempati posisi baru sebagai CEO MDI Ventures, mengisi kekosongan posisi tersebut selama 9 bulan sejak ditinggal pendahulunya. Seperti diketahui, posisi ini sebelumnya ditempati oleh Nicko Widjaja yang kini hijrah untuk membangun BRI Ventures.
Bersamaan dengan masuknya Donald, Aldi Adrian Hartanto kini menjabat sebagai VP of Investments di MDI Ventures.
Kepada KrASIA VP of investments MDI Ventures Aldi Adrian Hartanto mengungkapkan, berangkat dari pengalaman yang dimiliki oleh Donald Wihardja dalam hal investasi dan menjalankan bisnis, bisa menambah warna tersendiri kepada gaya investasi dan kultur di MDI Ventures selanjutnya.
Ditambahkan olehnya, dalam beberapa tahun ke depan, tujuan utama dari MDI Ventures adalah tetap sama, yaitu sesuai dengan visi menjadi VC yang fokus kepada pendanaan top multi-stage di Asia Tenggara.
Diharapkan Donald bersama tim bisa membantu untuk mengakselerasi aktivitas penggalangan dana, agar bisa menciptakan asosiasi pendanaan yang mandiri, sekaligus mendukung dan memperkuat organisasi. Tahun 2019 MDI Ventures berhasil catatkan 5 exit, dengan 3 akuisisi dan 2 IPO.
Tambah dana kelolaan baru
Tahun ini MDI Ventures segera menambah dua dana kelolaan baru lagi untuk memperkuat portfolio investasi startup Telkom Group dari tahap early stage sampai later stage. Kepada DailySocial Managing Partner MDI Ventures Kenneth Li mengungkapkan, bahwa penambahan ini dikarenakan alokasi dana putaran pertama selama empat tahun sudah habis.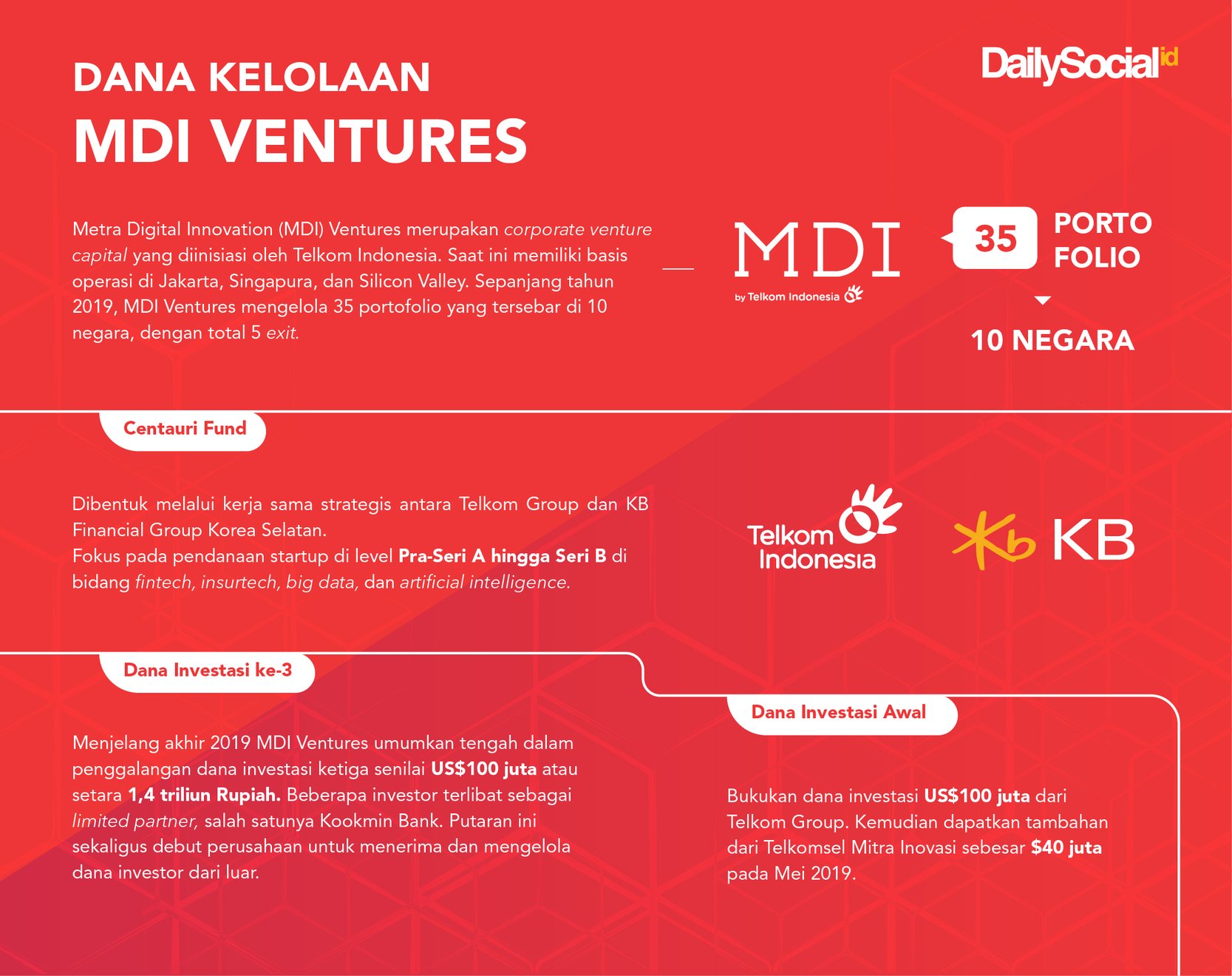 Awal Desember 2019 lalu, Telkom Group melalui MDI Ventures dan KB Financial Group asal Korea Selatan juga membentuk dana kelolaan baru bernama Centauri Fund. Mundur lagi, di pertengahan 2019, anak usaha di bisnis seluler Telkomsel membentuk unit investasi baru, yaitu Telkomsel Mitra Inovasi (TMI) yang akan dikelola oleh MDI Ventures.
Tantangan investasi di 2020
Pandemi membuat banyak strategi bisnis harus disusun ulang, pun demikian dengan strategi investasi.  Dalam sejumlah wawancara dengan venture capitalist, kami banyak mendapatkan insight soal prediksi bahwa investasi di Indonesia bakal menurun di 2020. Kendati beberapa pemodal meyakinkan tidak akan menunda rencana-rencana yang sudah ada.
Kenneth menilai, akan ada penyesuaian pada aktivitas investasi. Namun, ia memperkirakan akan ada investor yang memanfaatkan situasi ini untuk mencari portfolio startup yang valuasinya dapat di-discount, terutama, investor yang punya cash reserve kuat.
"Kita tidak melihat rencana investasi dari agresivitas pasar, tetapi startup yang bakal berhasil di masa depan. Bagaimanapun juga, investasi itu bergantung dari cara investor menetapkan hipotesisnya. Saya yakin VC yang punya fund baru dan track record baik bisa bertahan di situasi ini," ujarnya.