Grand Theft Auto V Next-Gen Sajikan Perspektif First-Person a la Shooter
Satu 'hadiah' lagi Rockstar Games umumkan bagi mereka yang sabar menunggu Grand Theft Auto V versi sistem next generation. Setelah penantian selama setahun lebih, sekedar dongkrakan grafis serta kompilasi mode-mode permainan saja mungkin tak cukup memuaskan fans. Untuk itu, Rockstar mengambil eksekusi drastis.
Belum lama Rockstar mengungkap mode first-person dalam Grand Theft Auto V, pertama kalinya di sepanjang sejarah seri video game legendaris ini. Tujuannya sederhana: agar gamer dapat menikmati GTA V lebih intens dan personal. Perspektif orang pertama akan mengubah pengalaman bermain Anda, memberi efek berbeda pada gamer.
Namun mungkin, deskripsi tertulis tak mampu menggambarkan seperti apa rasanya bermain Grand Theft Auto V melalui sudut pandang first-person. Oleh karena itu, Rockstar merilis sebuah video trailer sepanjang tiga menit, semuanya diambil langsung dari game action open-world fenomenal tersebut. Simak di bawah.
Info menarik: Rockstar Tetapkan Tanggal Resmi Peluncuran Versi Next-Gen Grand Theft Auto V
Yang baru Anda saksikan di atas adalah GTA rasa Call of Duty. Sang developer menjelaskan, mode tersebut baru bisa tercapai berkat dukungan hardware di platform modern. Mereka harus menambahkan animasi gerakan lebih realistis, termasuk meracik tekstur objek lebih tajam (lihat urat di tangan atau guratan-guratan di senjata). Belum lagi detail-detail lain seperti dashboard serta speedometer kendaraan - dan kita tahu, ada ratusan jenis kendaraan di GTA V.
Rocsktar juga menyiapkan beberapa fitur anyar contohnya sistem target baru, kontrol intuitif a la game shooter tradisional, serta sistem cover unik dimana permainan akan beralih ke perspektif orang ketiga ketika Anda berlindung di belakang objek. Rockstar mengaku, mereka telah menyisipkan ribuan animasi baru ke dalam Grand Theft Auto V.
Pada IGN, animation director GTA V Rob Nelson berkata, "Jika mau menggarapnya dengan benar, Anda harus mengubah semuanya. Kami tidak bisa sekedar menarik kamera dari perspektif orang ketiga ke first-person, karena semua animasinya harus tepat berada di kamera. Semuanya harus kami evaluasi ulang."
Di platform Xbox One dan PlayStation 4 (rilis tanggal 18 November 2014), Rockstar menjanjikan resolusi 1080p di 30 frame rate per detik. Untuk gamer PC (27 Januari 2015) yang 'dipaksa' menunggu dua bulan lebih lama, Grand Theft Auto V akan menyajikan support 4K dan fitur video editing eksklusif.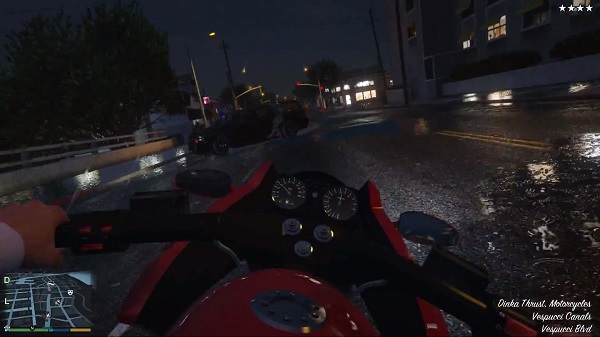 Sumber: RockstarGames.com.
Are you sure to continue this transaction?
processing your transaction....