iPrice Report: GoPay as E-wallet with The Biggest Monthly Active Users in Indonesia
Followed by Ovo, Dana, LinkAja, and Jenius
iPrice Group collaborates with App Annie on summarizing e-wallet service evolution from the fourth quarter of 2017 to the second quarter of 2019. Gojek, including GoPay and its services, become the most downloaded and used app monthly, followed by Ovo, Dana, LinkAja and Jenius.
Gojek has consistently led the table as the most used app since late 2017 to date. Meanwhile, there's always movement in the top five, the impact of each app provider's strategy.
LinkAja, with the previous name TCash was only a row away from Gojek then. After Ovo emerged, both continuously exchange position from second to third, until Ovo tag along with Gojek in the second position from the third quarter last year to the second this year.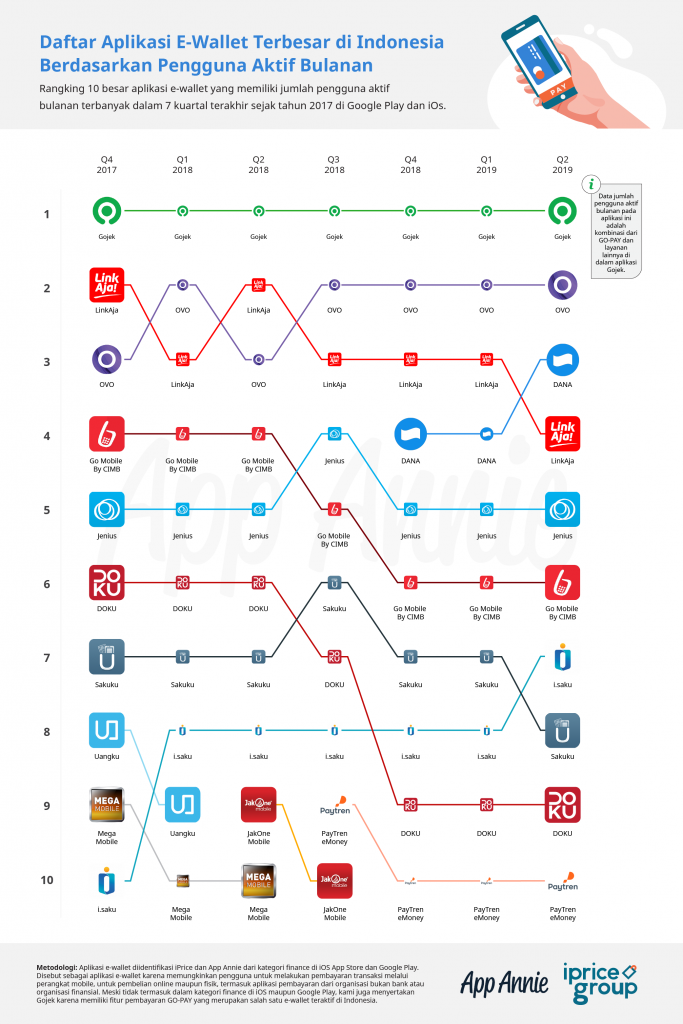 Ovo consistency in keeping up with its users can't be separated from its partners. After they become the official payment for Grab and one of the payment options in Tokopedia replacing TokoCash. Ovo has acquired the user base from Grab and Tokopedia for its service.
On the other side, LinkAja has been through another issue. After being replaced by Ovo, they're getting outgrown by Dana, a new player since the fourth quarter of 2018. The joint venture of Emtek Group and Ant Financial has to leave LinkAja behind by the second quarter of 2019. If it's not for their strategy as one of the payment options on Bukalapak, the moment might not be there. It includes all the discount campaign on merchants in top-tier cities.
Based on the iPrice Group data on LinkAja, they're now in the fourth position of e-wallet with the biggest monthly active users. The effort made by state-owned enterprises "collaboration project" LinkAja has shown since early 2019, they've been seeking a strategic partnership with service providers, government, and other e-wallet developers.
–Original article is in Indonesian, translated by Kristin Siagian
Are you sure to continue this transaction?
processing your transaction....