Tren Internet of Things (IoT) secara perlahan makin diminati oleh pengembang di Indonesia untuk mengusung berbagai jenis layanan. Mulai dari perusahaan (khususnya Telco) hingga pengembang di universitas mulai merumuskan berbagai ide penerapan teknologi IoT dalam berbagai kebutuhan. Beberapa produk bahkan saat ini sudah siap pakai dan diujikan.
Berikut ini adalah daftar inisiatif pengembangan produk IoT di Indonesia yang mulai meramaikan pangsa pasar teknologi dan bisnis.
Cubeacon
Produk teknologi yang diusung Cubeacon memudahkan para pedagang untuk dapat memantau aktivitas para pelanggan mereka melalui smartphone. Dengan perangkat tersebut, para pedagang dapat memantau pergerakan dari para pelanggan mereka melalui aplikasi yang terpasang pada smartphone sang pelanggan.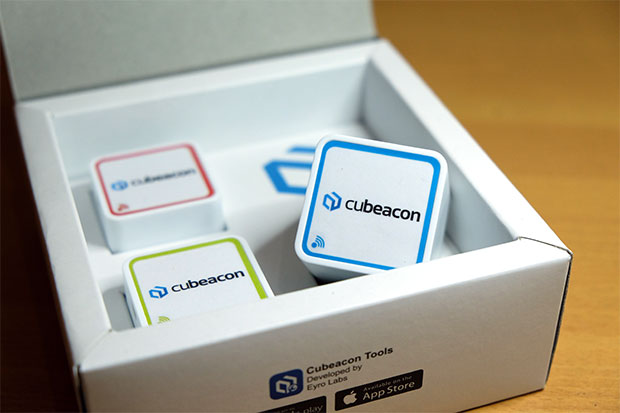 Perangkat Cubeacon tersebut memiliki bentuk menyerupai sebuah kubus kecil dan memanfaatkan konektivitas bluetooth untuk dapat tersambung dengan beragam perangkat elektronik. Setiap satu paket pembelian produk Cubeacon ini berisi tiga buah Beacon dan sebuah baterai terpisah.
Application Information Will Show Up Here
DycodeX
DycodeX merupakan inisiatif berupa anak perusahaan dari pengembang software kenamaan asal Bandung DyCode untuk menyambut tren positif IoT di Indonesia. Menurut CEO DyCode dan DycodeX Andri Yadi langkah ini merupakan momen terbaik untuk mulai mengikuti arus tren IoT yang kini mulai hangat diperbincangkan. Diakui ekosistem itu sendiri masih muda, berdasarkan pengalaman mobile app bubble beberapa tahun silam DyCode justru ingin kembali menjadi pionir kali ini.
Layanan photo editing dan cetak bernama "Jepret" yang dimiliki DyCode akhirnya bermigrasi ke DycCodeX dengan nama Allegra. Intinya Allegra merupakan penyempurnaan dari segi kenyamanan dan mobilitas yang lebih baik dari keseluruhan layanan Jepret. Tak hanya itu, sejak peresmian DycodeX pada bulan April lalu mereka berhasil membangun tiga prototipe produk lainnya, seperti project name Button, Gallon dan Lamp.
eFishery
eFishery adalah alat pemberi pakan ikan otomatis. Alat ini tidak hanya mengotomatisasi pemberian pakan secara terjadwal dengan dosis yang tepat, tetapi juga mencatat setiap pemberian pakan secara real-time. Pengguna dapat mengakses data pemberian pakan kapan pun dan di mana pun . Tidak ada lagi masalah over-feeding, pemberian pakan ikan yang tidak teratur atau pakan yang diselewengkan. Secara spesifik, eFishery berusaha membantu peternak ikan dan udang, karena biasanya pemberian makan ikan menguasai antara 50 hingga 80 persen biaya operasi peternakan ikan.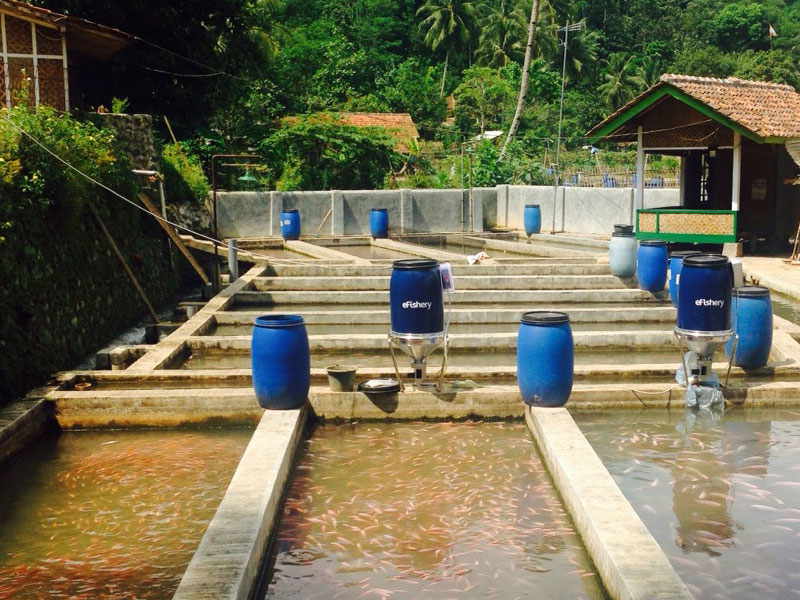 eFishery juga dikenal sebagai startup yang sering memenangkan berbagai kompetisi startup tingkat global.  Model bisnis eFishery adalah menjual alat pemberi pakan pintar kepada peternak dan distributor. Lebih jauh, seperti halnya konsultan, mereka juga mendapatkan penghasilan dari biaya langganan pemakaian piranti lunak untuk memonitor dan menganalisis aktivitas pemberian pakan ikan secara real time di smartphone atau tablet tiap bulannya. Mereka mengklaim secara rata-rata optimasi yang dilakukan mengurangi jumlah makanan yang digunakan hingga sebesar 21 persen.
eMagic
eMagic (Enhance Managed IoT Connectivity), sebuah solusi M2M (Machine-to-Machine) besutan Indosat Ooredoo. Sistem ini dirancang untuk memudahkan pelanggan dalam menghubungkan dan mengelola perangkat dengan layanan full managed. Layanan full managed sendiri memungkinkan pengguna tidak direpotkan dengan aktivitas instalasi, operasi dan pemeliharaan. Biaya lebih efisien dan perangkat dapat beroperasi optimal menjadikan pelanggan dapat lebih fokus pada bisnis.
eMagic dapat diterapkan pada berbagai industri seperti ATM, EDC pada perbankan, gateway untuk sensor pada perusahaan oil and gas, broadcasting, ritel dengan live streaming, advertising dan small branches office, dan industri lain yang membutuhkan komunikasi data yang handal dan aman.
Fox Logger
Fox Logger GPS merupakan sebuah platform yang berfungsi sebagai sistem manajemen transportasi yang memungkinkan pengguna memantau aktivitas kendaraan. Pantauan tersebut meliputi jarak tempuh setiap harinya, lokasi parkir, cepat laju kendaraan, lama kendaraan menyala, pemakaian bahan bakar hingga mendeteksi keberadaan kendaraan berdasarkan letak geografis tertentu.
Dikembangkan oleh startup pimpinan Alamsyah Cheung, solusi yang ditawarkan merupakan sesuatu yang dibutuhkan para pengusaha di bidang logistik. Dengan Fox Logger GPS Technology mereka bisa dengan mudah memantau armada mereka hanya menggunakan gawai atau komputer. Di awal peluncurannya,  Fox Logger berhasil menjalin kerja sama dengan Pemprov DKI. Sistemnya berhasil menjawab kebutuhan Pemprov DKI atas alat monitoring truk sampah yang dimiliki Jakarta.
Application Information Will Show Up Here
Konekthing
Berdiri pada tahun 2012, startup yang bermarkas di Depok ini memiliki impian agar manusia tidak hanya mampu terhubung antar sesamanya saja, tetapi juga terhubung kepada seluruh benda di sekitarnya. Menurut mereka membangun konektivitas berarti turut membangun jembatan ke teknologi masa depan yang mampu mempermudah manusia melakukan segala aktivitasnya. Sejumlah produk yang dihasilkan oleh Konekthing, dana beberapa terkait dengan teknologi IoT adalah Xlogistik, Edu Tablet, Xchat, Xnething SmartHome, dan Xpajak.
Konekthing juga menyediakan application programming interface (API) yang disediakan untuk para pengembang aplikasi Android pihak ketiga yang ingin memanfaatkannya untuk menerapkan konsep rumah pintar. Teknologi yang dikembangkan ialah Wireless Sensor Network yang mengizinkan pengguna untuk memantau dan mengatur suatu area tertentu yang telah memiliki sensor jaringan agar mendapatkan atau membuat suatu kondisi di area tersebut.
Parkirin
Parkirin mengkombinasikan konsep aplikasi,  IoT, dan penggunaan mobile payment Tcash di sektor transportasi. Saat ini Parkirin sudah diuji coba di Kuningan City dan menyusul di fX akhir Mei 2016. Ide pengembangan Parkirin hadir karena Telkomsel (penggagas Parkirin) ingin mengembangkan konsep IoT di Indonesia. Menurut penilaiannya, saat ini yang siap dengan solusi IoT dan potensi bisnisnya besar adalah sektor transportasi. Oleh karena itu Telkomsel mencoba menginkubasi layanan ini.
Secara umum, cara kerja Parkirin adalah konsumen menggunakan aplikasi Parkirin, saat ini baru tersedia di Google Play dan iOS, untuk mengecek fasilitas gedung, promo merchant, dan ketersediaan tempat parkir. Khusus untuk reservasi tempat parkir dan pembayarannya saat ini baru bisa dilakukan oleh pelanggan Telkomsel, meskipun tidak menutup kemungkinan bakal dibuka untuk umum. Pelanggan Telkomsel bisa melanjutkan proses hingga reservasi dan pembayaran menggunakan Tcash.
Application Information Will Show Up Here
Qlue
Salah satu cita-cita startup pengembang layanan yang menghubungkan antara pemerintah dengan masyarakat yaitu ingin berinovasi mengembangkan produk smart city berbasis IoT, khususnya untuk diterapkan di wilayah perkotaan. Disampaikan oleh CEO Qlue Rama Raditya, bahwa saat ini sudah mulai terdesain beberapa inisiatif IoT untuk smart city, misalnya pengembangan traffic lamp yang terhubung ke sebuah command center, kotak sampah pintar, dan juga air polution detector. Berbagai otomatisasi ini dinilai akan menjadi makin "viral" ketika smart city menjadi sebuah kebutuhan di perkotaan.
Siramin
Di Yogyakarta sekumpulan mahasiswa UGM mengimplementasikan konsep otomatis ke dalam perangkat penyiraman. Mengusung teknologi dan konsep IoT, layanan yang diberi nama Siramin ini bisa menggerakkan alat penyiraman dengan kontrol menggunakan aplikasi mobile, baik Windows Phone, Android, maupun via website.
Siramin yang dikembangkan pada pertengahan tahun 2015 silam ini awalnya dirancang untuk bisa mengendalikan alat penyiraman menggunakan layanan pesan singkat atau sms. Namun seiring dengan perkembangan teknologi akhirnya tim Siramin mengembangkannya sehingga saat ini perangkat penyiraman bisa dikontrol melalui perangkat mobile maupun situs.
T-Bike
T-Bike merupakan salah satu solusi M2M (machine to machine) besutan Telkomsel yang dapat dipasangkan pada sepeda motor. T-Bike sendiri dikenal sebagai sebuah layanan yang dilengkapi dengan beberapa fitur unggulan seperti Find My Bike, Tracking, Engine On/Off, dan juga Geo Fence.Find My Bike, salah satu fitur yang ada dalam layanan T-BIKE ini memungkinkan pengguna untuk melakukan pencarian lokasi sepeda motor, sedangkan fitur tracking dirancang untuk memungkinkan melacak lokasi kendaraan lengkap dengan alamat dan titik koordinat.
Dua fitur unggulan lainnya yakni Engine On/Off dan Geo Fence didesain untuk memberikan keamanan ekstra. Geo Fence misalnya, bekerja untuk memberikan peringatan batas aman kecepatan maksimum pada saat berkendara. Selain beberapa fitur unggulan di atas, T-Bike juga diklaim memiliki kelebihan dari segi pemasangannya yang cepat. Bahkan atas performanya ini T-Bike diganjar beberapa penghargaan dari beberapa lembaga seperti, MURI, Motor Plus, dan Forwot (Forum Wartawan Otomotif).
YuBox
YuBox merupakan sebuah solusi terintegrasi berbasis Wi-Fi dari XL Axiata yang bisa menjadi media penyebaran berbagai jenis informasi, seperti iklan, konten aplikasi, video atau musik. YuBox bekerja dengan memanfaatkan jaringan data XL dan platform aplikasi yang terhubung dengan perangkat WiFi Router. Saat YuBox diaktifkan di lokasi yang telah ditetapkan, pengguna mobile dapat mengakses browser atau Internet secara otomatis tanpa memerlukan proses otentikasi. Selanjutnya landing page, konten berita, promo dan hiburan lainnya dapat diakses oleh pengguna secara online maupun offline.
DailySocial.id adalah portal berita startup dan inovasi teknologi. Kamu bisa menjadi member komunitas startup dan inovasi DailySocial.id, mengunduh laporan riset dan statistik seputar teknologi secara cuma-cuma, dan mengikuti berita startup Indonesia dan gadget terbaru.